How to Increase your Dental Practice Collections Percentage

You're a dentist with your own practice, dealing with the after effects of 2020. Your collections percentage is down, and it's affected the revenue of your business. You're scared, anxious, considering cutting overhead costs, and possibly unable to perform certain procedures due to lack of revenue. To put it simply, your business is facing its worst case scenario.
Learning where the disconnect is between your office, your patient and the insurance company can help you figure out where your money is going and why it isn't in your pocket where it belongs.
In this article, you will learn why this may be happening to your dental office, the 3 big things you can do to increase your collections percentage, and how outsourcing to a dental billing company like Dental ClaimSupport (DCS) can remedy these shortages of collections.
You might be asking yourself, "can an outsourced dental billing company really give me an honest evaluation on how to increase collections percentages? Don't you have something to gain by writing this?"
Of course we do. But outsourced dental billing companies aren't for everyone, and in this article, we'll show you how you can solve this problem on your own, as well.
3 possible reasons your dental collections percentage could be down
There are a number of reasons your collections percentage could be down. Here are the three most common issues:
Someone has not posted insurance payments into the software.

This happens more than you think. We have found many checks that have been cashed and never posted in the practice management software. Also, the tendency for some front office team is to put the checks in desk drawers where they tend to stay for a lengthy period of time.

Your front office team is not verifying dental insurance.

Insurance verification is one of the most important tasks your team can do to increase insurance collections percentages. Failing to verify insurance eligibility at a minimum sets your office up for prolonged collection time tables if the claims are being sent to the wrong insurance companies or there was never active coverage in the first place.

Your insurance team and/or office manager is performing too many roles.

Your team may be wearing "too many hats" to focus on the dental insurance tasks that are needed to be performed each day. Patient quality is affected by team members trying to juggle answering the phones, scheduling, check-in and check-out, and the dental insurance billing tasks.
What's a good dental office collections percentage?
Before you look to increase your collections percentage, you need to know what that percentage is. The goal is to have your collections be as close to your net production as possible. According to an article by DentistryIQ, the average collections percentage for a dental practice is 91%. This is a percentage to keep in mind when gauging your revenue.
The average dental practice is losing 9% of their production to uncollected revenues. This means if you are producing $60,000 per month, you are losing an average of $5,400 per month! That's almost $65,000 per year of lost revenue.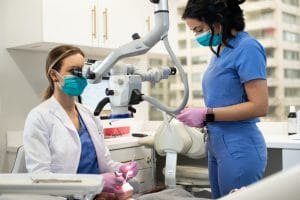 It is best to run your collection percentage each month, quarter, and year.
One thing you need to consider when running your collections percentage numbers is the standard delay of insurance payments. What we mean is if you file insurance claims to dental insurance, you will not have the payment in your office that same day. Most dental claims take on average 7-14 business days to process and pay.
So you may produce $5,000 one day but most of that was submitted to insurance for reimbursement. You cannot expect to collect the insurance revenue on the same day as the treatment.
Your insurance collections percentage needs to be between 98%-100%.
How do I calculate my collections percentage in my dental practice?
To calculate your collections percentage, we will be working with three different variables to find this percentage:
Production

: Any service or procedure that is charged to the patient.

Run your last months of production reports to find each month's production number.

Collections

: The amount of revenue, insurance AND patient payments, brought in for your production.

Within your practice management software, run your deposit report for the last full month to find how much you collected.

Write-offs & Adjustments

: Adjustments to Preferred Provider Organization (PPO) in-network fees as well as any discounts or additional write-offs.

Within your software reports, and it may be different for each practice management software, run your write-offs and insurance adjustments for the last full month.
Total Adjusted Production: Also known as net production, is the total cost of the services you have produced, minus the adjustments such as courtesy discounts, insurance write-offs or bad debt write-offs.
You can subtract your write-offs & Adjustments number (Number 3 above from the Production (Number 1) to find the Total Adjusted Production.

For example, $5,000 (in production) – $500 (in write-offs) = $4,500 (net production)
To calculate your collections percentage, use this formula:
Total Collections / Total Adjusted Production = Collections Percentage
For example: Let's say in February 2021, your Total Collections were $50,000 and your Total Adjusted or Net Production was $55,000. We would divide $50,000 by $55,000 which would equal .909, also known as 90.9%.
Now you are able to calculate your collections percentage. So, if you calculated your percentage and you're seeing it below 98% how can you improve? Next, we will show you how to increase your collections percentage.
How do I increase my dental collections percentage?
There are a few things you can do to help yourself when it comes to your collections percentage being down.
Verify Patient Insurance:

Make sure to verify your patients dental insurance.

Insurance verification eliminates insurance coverage denials.

Understand dental insurance plans that affect reimbursement

Deductibles, annual maximums, frequency limitations, missing tooth clauses, timely filing periods, downgrades, non covered services

Patient Collections:

Effectively check patients out before they leave your office.

Collect deductibles and downgrades from patients up-front. No exceptions.

Send patient statements daily or weekly.

Call patients to collect when necessary.

Patient collections are time sensitive and must be collected as soon as possible. You do not want patient balances over 90 days.

Insurance Collections:

Send insurance claims daily.

Do not send claims only once per week..

Post insurance payments daily.

Do not put insurance payments in a desk drawer. (These tend to be forgotten about often!)

Post EFT payments at least once per week.

Balance or reconcile each day payments are posted.

Consistently research your insurance aging report.

Verify claims are being sent through your

clearinghouse

.

Call (or check dental insurance websites) on every single claim over 30 days.

Enter notes in your software about each phone call to the insurance company.

Make sure no claim reaches its timely filing limit.
If you're willing to invest in the time and extra effort, these steps should lead you to an increased collections percentage. There is another option that we've seen save our clients time and money: outsourcing your dental billing.
How can outsourced dental billing companies increase your collections percentages?
Now that you understand the variables that can affect your collections percentages, let's fix the problem. The reason we recommend outsourcing a dental billing company is because there are a lot of bases to cover and for a dentist who is new to dealing with billing or insurance, or an office manager who is stretched too thin, it can be daunting.
Outsourced dental billing companies are solely focused on the billing aspect of your dental practice, so when we spend two hours working on your account, that would be the equivalent of a front-office team member spending 4 hours working on it. This is due to other responsibilities the team member must handle while trying to post payments. They have to answer phones, check patients in and out and more. It's a lot to do all at the same time. Our goal is making sure your insurance billing is performed accurately and to completion. Our only job is to make sure billing is taken care of, so we are hyper-focused on this and able to get more done in an efficient amount of time in a shorter amount of time.
We are incentivized to post as many payments as we can on your account, because we are paid a (very small) percentage of what you collect! This is explained more deeply during the sales process, but you can always count on your account to be worked in full every week and every month.
Obviously, we want the collections percentage to be as close to 100% as possible. As mentioned earlier, the average collections percentage is 91%. Realistically speaking, 100% is impossible because if you are giving certain write-offs, such as courtesy adjustments for friends and family. The minimum number however should be 98%.
Ensure proper dental billing
As mentioned before, knowing insurance laws and procedure codes is complicated, and it's likely you and your team aren't fully educated on this information. Don't worry, most people aren't! That's what makes outsourcing your billing a great resource for you.

So, how do you ensure that you're billing out properly and not leaving any money or adjustments on the table? While verifying insurance, you will learn what procedures you can do that day, and the exact dollar amount insurance should pay and the patient should pay. These are also the kinds of things we will keep up with as your outsourced dental billing provider.
Collections percentages go up, dentists' stress goes down
Here at Dental ClaimSupport, we don't guarantee results overnight. We do guarantee that we can help make your collections percentage increase, though.

Through diligent insurance verification by your team, frequent communication with your office and insurance companies, you can collect what you deserve. Coding properly is a denser subject, but you can increase your knowledge base through our Dental Claims Academy webinars.
Understanding your office's situation and why your collections percentage is down is what our team is here to do. Our mission is to make sure you get paid from dental insurance and help billing run smoothly at your practice. We're here to help make you successful and increase that collections percentage with our team of experts dedicated to dental billing.

Check out our article on what a successful customer at Dental ClaimSupport looks like to us and see if we could be a good fit for each other.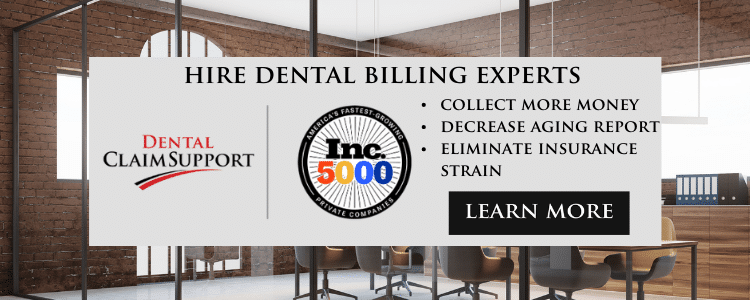 Related Posts
Dental billing resources