Medical Billing for General Dentists: 5 Common Errors to Avoid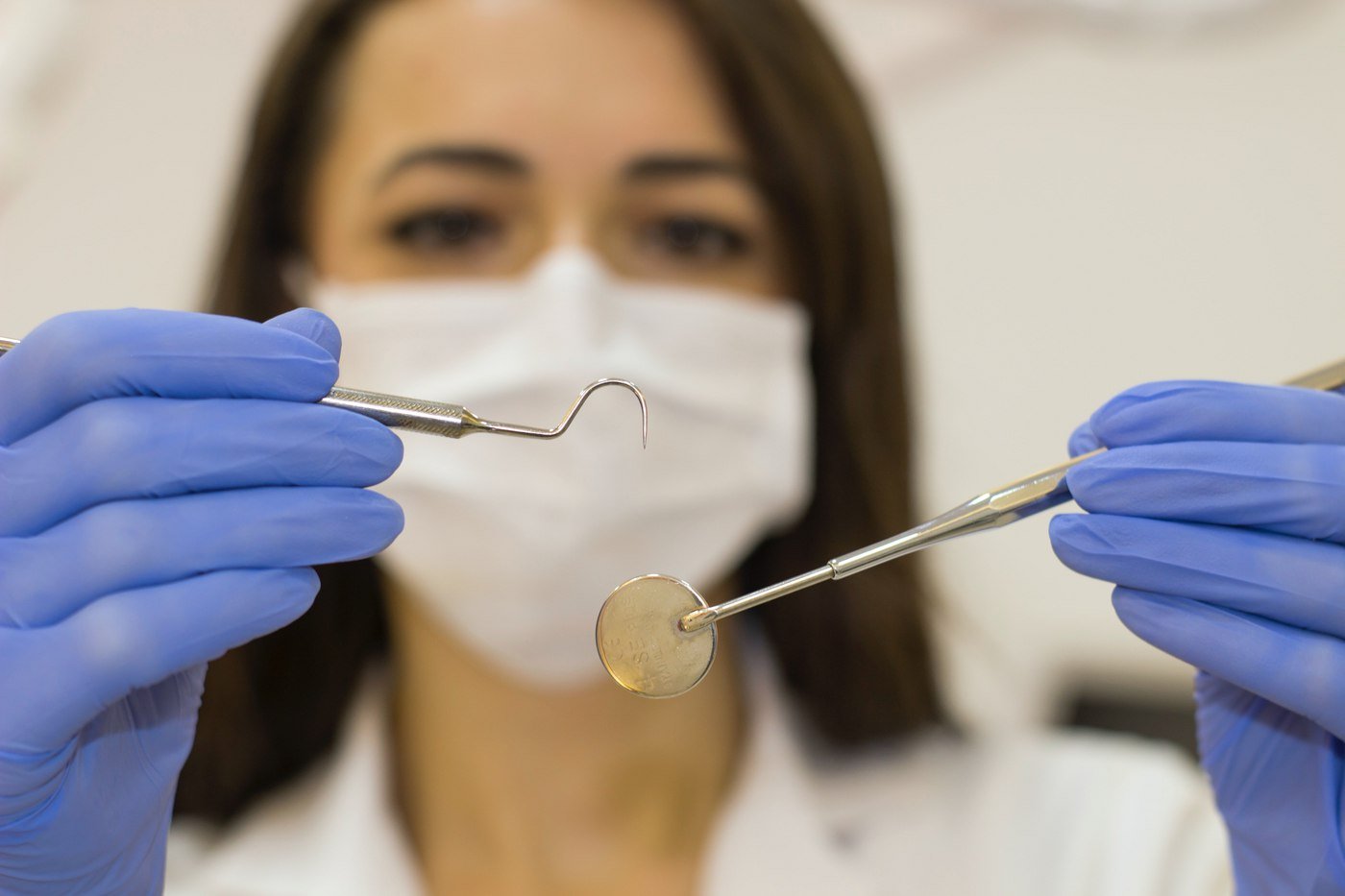 The medical claim form, in itself, can be a source of confusion and frustration for many dental team members. Claim form submission errors are the most common cause for claim rejections. They're also the biggest source of frustration and the reason that many dental team members give up on filing claims to medical insurance.
At Dental ClaimSupport, our team of knowledgeable expert medical billing specialists assist our clients with billing dental procedures to the patient's medical plan successfully on a daily basis. The dental world is changing. Servicing hundreds of providers, we have seen the trends of common dental procedures needing to be billed to medical insurance.
Your dental team needs to know why certain procedures need to go to medical insurance, and how to get them there accurately. Don't worry, we're here to help! This article will focus on 5 common medical claim form errors to avoid that cause claim rejections in addition to establishing why a general dentist may need to submit medical claims. With knowledge of the common claim form errors causing rejections, you should be able to successfully submit a medical claim with a reduced chance of rejection due to claim form errors.
Can a general dentist submit a medical claim?
Yes. In fact, any healthcare provider practicing within their scope of practice may submit a medical claim. Any dental procedure may be submitted to the patient's medical insurance plan. However, many medical plans specifically exclude dental procedures from coverage.
For medical plan reimbursement consideration, the procedure must be covered by the plan.
Also, the patient's condition requiring treatment must meet the plan's medical necessity criteria.
We have established the need for general dentists to submit medical claims. Will the patient's medical plan always consider reimbursement? No. We do need to submit the claim even if to obtain a denial in order for the dental benefits plan to pay.
Reasons Why a General Dentist should Submit Medical Claims
General dentists are increasingly faced with the need to submit dental procedures to the patient's medical plan, in other words, their medical insurance. The most common reason is that dental payers are mandating that certain dental care procedures be sent to the medical plan for reimbursement consideration first. Some of these procedures are surgical extractions and 3rd molar extractions.
As general dentists continue to expand their dental services or incorporate specialists into their practice, this trend is expected to continue.
Procedures that are considered medical care in nature are also performed by general dentists. These are but not limited to: newborn frenectomies and soft tissue biopsies.
Some dental benefit plans, particularly self-funded ones (i.e., Boeing Air, etc.), consider dental implants and bone grafts under their medical benefits. Therefore, a medical claim is required.
The number one reason to file a medical claim is often overlooked: dental trauma.
We, as dental professionals, often think of trauma as being limited to automobile accidents, work-related trauma, or other significant trauma requiring treatment in a hospital, not a visit to the dental office.

The fact is most general dentists provide treatment for dental trauma routinely. A fractured tooth/teeth or dental restorations due to falls, playground accidents, or sports-related injuries are typically seen by general dentists. So, when little Timmy comes into the dental office after cracking his tooth on the playground, is it appropriate to bill this type of trauma to medical insurance? Absolutely!
While many medical plans exclude dental procedures, others are beginning to consider some dental procedures to meet the plan's criteria for medical necessity. This is due to the awareness of how the oral disease affects the patient's overall health, known as the oral systemic link, among all healthcare providers.
The more claims we file will help the medical plans understand the need to enhance their medical plan for medically compromised patients (e.g., diabetics, etc.).
What is the medical billing claim form for dentists?
As of 2021, the current medical claim form, which should always be used, is the CMS 1500 (02-12).
While some insurance companies may continue to accept a handwritten claim, it is not advisable. These handwritten forms are scanned into the payer's software and read by the software, so a rejection is highly possible. For example, in dentistry, we utilize many ICD-10-CM diagnoses codes that begin with the letter Z. A handwritten Z is almost always misread as a 2, and the claim is rejected as "invalid diagnosis code".
Also, note that some third-party payers may require the original red and white CMS 1500 form. The original red and white form has information on the front and back of the form. An original form may be purchased from office supply companies or your local dental supply company.

Other payers may allow the submission of a printed black and white or printed red and white form generated by the dental practice management software. Know your third-party payers and their requirements to avoid unnecessary claim rejections.
At first glance, the medical insurance claim form can be intimidating; however, it is important to remember that unlike the dental claim form, the medical claim form is designed for ALL healthcare providers, submitting procedures to medical plans. This includes, but is not limited to hospitals and other facilities, anesthesiologists, mental health providers, medical doctors, and dentists.
Not every field will need to be completed by a dentist. There are a few fields that an entry is required or the claim is rejected, guaranteed. Let's take a look at a few of these fields.
How do I fill out a medical claim form?
The top portion of the claim is similar to the dental claim form as it contains the patient and subscriber demographics. There are a couple of notable fields that are slightly different.Field 1 – Indicates the type of plan. Most are self-explanatory except "other". Other is used to indicate a non-group plan such as an individual indemnity plan. Field 10 – This field must be completed. Indicate either 'Yes' or 'No'. When the procedures are resulting from an auto accident, enter the state the accident took place. Each state has specific auto collision coverage requirements. Field 11d – Do NOT enter 'Yes' if the other policy is a dental insurance plan. A medical insurance plan is always primary over dental insurance with an exception. A medical plan will not coordinate with a dental plan but many dental plans will coordinate with a medical plan. The exception is the state of Nevada. For all oral surgeons submitting medical plans for treatment performed in the state of Nevada, the medical plan will be secondary to dental. Field 14 – This field includes the date of current illness or injury. For most general dentistry claim submissions, this will be the same as the date of service, but not always. If the treatment listed on the claim for specifically a late effect of an original illness or injury, enter the date of onset of the related illness. The qualifier will be 431 and is entered in 14a to the right of the vertical dotted line. Leaving field 14 and 14a blank is a guaranteed claim rejection. Field 15 – This field must be completed when field 10 indicates that the claim is related to an accident. For accident-related claims, enter the Qualifier 439 between the two vertical dotted lines on the far left beside QUAL. Qualifier 439 communicates to the payer that the date entered to the right is the date of the accident. If you check 'Yes' to one of the 3 choices in field 10 then field 15 must be completed or it is a guaranteed claim rejection. Enter the diagnosis(es) code that applies, omitting the decimal.
For example, if the only diagnosis code that applies to this claim is K06.1 enter K061 in 21A. I've never seen a claim rejected for the omission of decimal points, but I have seen many claims rejected because the decimal point was used here.
This relates back to the payer software programmed to read a certain number of characters, and a decimal point is a character. Enter '0' in ICD Ind. between the two vertical lines. The number 0 entered here communicates to the payer that ICD-10-CM codes have been applied.
Omitting the 0 in ICD Ind. is a guaranteed rejection and your claim will be rejected as "invalid diagnosis code in field 21".
Steps dentists should take before implementing medical billing
Whether you choose to learn to submit medical claims in-house or outsource medical billing, there are some steps to take before implementing medical billing in your practice.
Step 1: Audit your dental practice's documentation
Evaluate your clinical documentation practices. Ensure that all providers of the practice are documenting to specificity. Include the diagnosis, always along with the patient's chief complaint, quoting the patient. It is not only the clinical team who needs to be sure their documentation is thorough. Sometimes, the team member answering the phone call learns more about the patient's chief complaint than the clinical team.
Specificity in documentation is key to successful medical claim submissions. Consider implementing the SOAP method as your standard for documentation. The SOAP method is used by most healthcare providers and is an acronym for Subjective, Objective, Assessment, and Plan.
The four components of a SOAP note are:
Subjective

– This is known as the patient's chief complaint. It is a brief statement of the patient's reason for the visit or a description of symptoms. This information should be entered into the patient record and quoted in the patient's own words. (e.g., the patient states "I've had a throbbing toothache for 3 days and some swelling".)

Objective

– Unbiased observations by the doctor or dental team members that include the patient's vital signs such as blood pressure reading and any other screening results.

Assessment

– Diagnosis by the doctor of the patient's condition. (e.g., periodontal disease findings, findings of decay on the radiographs, etc.). Do not forget to document there were no abnormal findings. This is often omitted from the chart note and is just as important as documenting the abnormal findings.

Plan

– Proposed treatment plan addressing the patient's problem(s). Another area where it is crucial to be specific. For example, "distal decay" is too general for diagnosis documentation. The documentation should state each tooth, surface with the carious lesion. Include detailed notes regarding the discussion with the patient about his condition and the patient's decision whether to proceed with the recommended treatment.
Step 2: Review dental/medical claims for errors prior to submission to insurance company
This training document highlights the most common reasons to experience medical claim rejections for the general dentistry practice. It is certainly not complete instructions. For complete claim form instructions, visit CMS 1500 Claim Form Instructions.

Keep in mind that the intention of this article is to address the most common errors causing a claim rejection and not comprehensive instructions. These instructions are based on the official claim form completion instructions. Note that each payer has their own processes, so get to know your payers and what they need to adjudicate the claim. BCBS of NC is one of those payers, for example!
In addition to the claim form, be aware that Medicare DOES apply to healthcare providers, including dentists. Before submitting a claim for a biopsy or other potentially covered procedures, know the Medicare status of the treating provider.

Is the provider enrolled in traditional Medicare (i.e., ordering and referring, part B billing), Opted out of Medicare, or has the provider chosen to ignore Medicare, which is an option for dentists but is not recommended.
Navigating Dental Procedure Codes
Only diagnoses documented can be reported. It is inappropriate to report a diagnosis code to get the claim paid. A diagnosis code tells the story of why a procedure is necessary, same as we use narratives applied to the dental claim but in the form of letters and numbers. ICD-10-CM is the current code set to communicate a diagnosis. ICD-10-CM codes are not medical codes, they can apply to the dental claim too!
We know codes can get a little confusing, but thankfully we have webinars available for anyone interested in learning how to navigate these codes and learn how to use them properly. Check out our Dental Claims Academy's live events to sign up! The next few webinars are specially for navigating codes, don't miss out!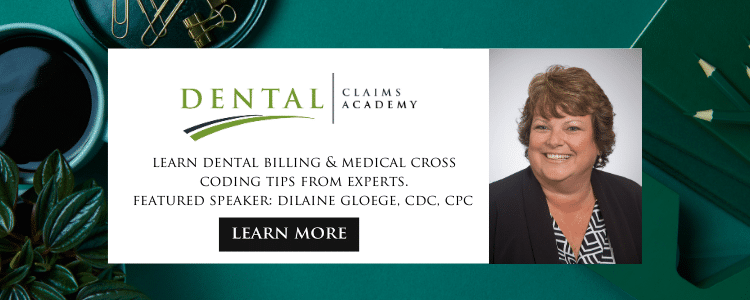 Related Posts
Dental billing resources