3 reasons you'll build a better dental practice by subscribing to the Dental Post & Core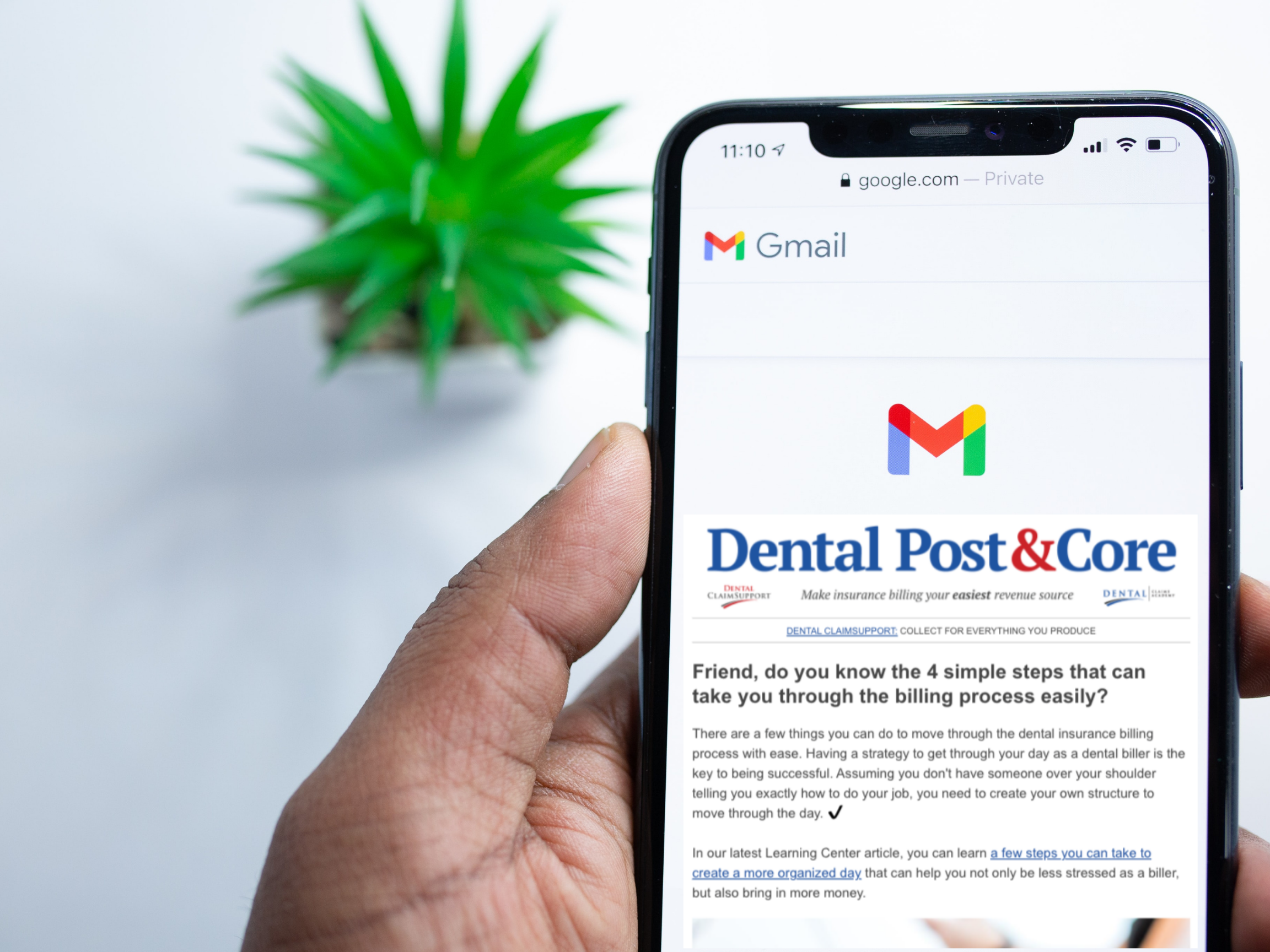 The dental world is constantly changing, and it's hard to keep up. You want your dental practice to be the best it can be, but it's difficult to stay on top of the ever changing details about insurance rules, running the practice and CDT coding. Those three challenges are enough to make anyone feel caught in an uphill battle where too often the insurance company wins.
Knowledge is crucial to a smooth-running billing process that pays you, not the insurance company. As an outsourced dental billing company, we see all kinds of practices with different billing problems and we certainly see the need for more coding education. It's not like you're learning this in dental school!
We share this knowledge at Dental ClaimSupport, in a weekly newsletter called the Dental Post & Core covering all of these topics.
In this article, you will learn the benefits of subscribing to the Dental Post & Core and what kind of valuable information you can get from it to improve your dental practice.
Here is what you can expect from the Dental Post & Core
Written by Dental ClaimSupport's Content Manager, Sarah Traeger, the Dental Post & Core is an educational tool full of resources for your practice. You don't have to be one of our clients to receive this newsletter. It's valuable information for anyone who is interested in improving their dental education. We cover a wide variety of topics from insurance billing, to procedure coding to general best practices for running a practice.
Whether you're a dentist, an office manager, or anyone working at a dental practice, this is an amazing resource for you. This is a weekly newsletter, so we promise we aren't going to spam your inbox. You can also unsubscribe at any time using the button at the bottom of the newsletter. However, we have a few reasons this newsletter can benefit your practice.
1. You will collect more money through an improved insurance billing process
If you know us, you know we are an outsourced dental billing company committed to helping you eliminate insurance strain at your practice. Our remote billers take care of the insurance side of your dental billing to help you close claims, bring in more money, and focus on the patient care instead of spending time on hold with insurance.
We're not here to convince you to use our services, instead, we're sharing our tips and expertise when it comes to insurance billing that you can apply to your process. By working on the billing process with so many practices since 2012, Dental ClaimSupport has streamlined and standardized the process of insurance billing.
In the Dental Post & Core, we share our latest articles from our Learning Center. We have articles covering aging reports, best times to send claims, basic insurance terminology and more. We even have an article covering fee schedules (yep, we cover even the most specific topics). All of these articles contain important information that can help you learn as much as you can about the billing process in order to bring in more revenue for your practice.
You also get access to special offers. For example, subscribers get the best price on our new book, The Ultimate Guide to Dental Billing & Reporting, written by one of our founders, Josh Smith. It is a step-by-step guide on how to move through the billing process efficiently and effectively in order to collect more money.
Having a clear and organized billing process is crucial for a successful dental practice. This is knowledge that we will always share with everyone, even if we don't work together.
2. You will get the latest information on CDT coding
Ah, the dreaded CDT code set It's complicated, it's always being updated, and staying on top of the details can be tedious. However, as you know, correct coding and documentation are necessary to understand. Unfortunately this is another area vital to your success that you don't learn in dental school. That's why Dental Claims Academy is a unique educational resource for those trying to stay up to date on dental coding.
In the Dental Post & Core, you will get any and all updates on Dental Claims Academy, including our upcoming webinars covering topics from CDT coding, to compliance issues management, to coordination of benefits.
In the newsletter, you will also receive our latest articles from Dilaine's Coding Corner. Dilaine Gloege, our Chief Claims Officer at Dental ClaimSupport has a segment of articles in our Learning Center dedicated to technical billing topics that require her years of expertise and experience. She is a dental billing author, educator, speaker and consultant with more than 35 years of dental and insurance claims experience.
Continuing education is an investment, but the return is apparent in your collections percentage, which is sure to increase as you take more time to understand each part of your billing process.
3. Learn more about how to run a successful dental practice
Not only do we cover all of the technical aspects to the dental insurance billing process, we share some of the best practices for running a healthy dental office.
Over the years, we've worked with all kinds of dental practices - big, small, new and old. We've seen it all. We know some strategies for organizing your day when it comes to billing, how to work with family members at your dental practice, and how to staff the right people at your practice. Let's be real, the technical stuff can't get done if your practice isn't running right.
Making sure you have not only an efficiently run practice, but also one where your people are happy and not overwhelmed is crucial to being successful. Many of our articles in our Learning Center cover topics like these that can give you an objective perspective on running your dental practice.
Ready to add the Dental Post & Core to your email inbox?
The dental community is a tight community with limited resources when it comes to education beyond the clinical aspects. Our goal is to be that educational resource for you, whether you use our billing services or not. Our experience in the field has helped us see what works and what doesn't when it comes to billing and running a practice.
This newsletter will be your way of staying ahead of the curve on all things billing, and keeping up with relevant information. Subscribe today and help your practice bring in more money.
Related Posts
Dental billing resources