Dental billing training: What's the most efficient way to learn?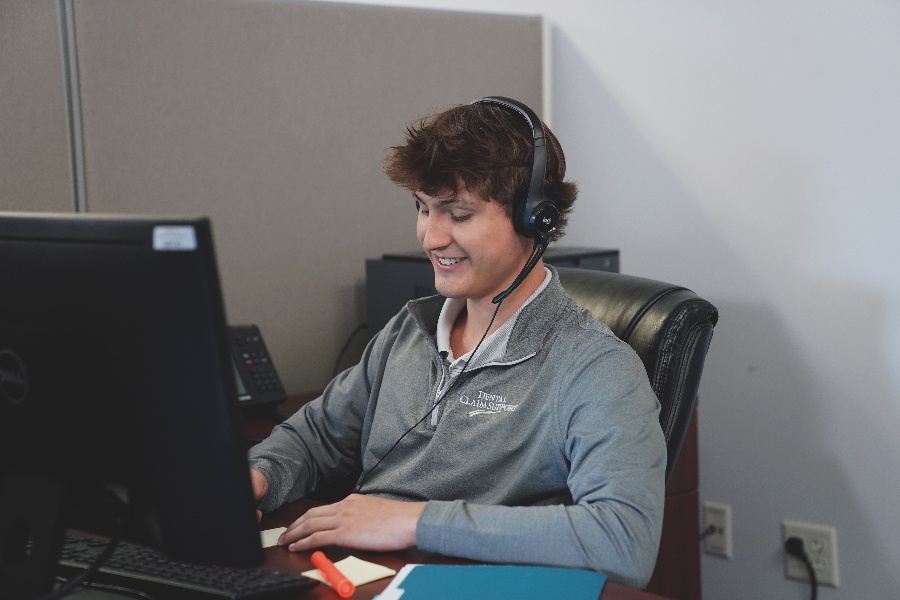 Your team's dental billing training has a lot to do with your dental practice's success. But you're not really sure where to find good dental billing courses. There's a lot to learn and so many websites with varying information. What is the most efficient way to learn about dental billing?
You want to learn from a reliable source and from more than just a few documents or articles to read. This is a great outlook to have. Dental billing - specifically the world of insurance claims - changes constantly. Having curiosity and the initiative to learn more is already a huge win.
Dental ClaimSupport has been teaching others our approach to dental insurance billing on our own education platform, Dental Claims Academy. We see how many dental professionals want to learn more about the billing side of dentistry, but aren't sure where to get current guidance they can trust. This is precisely why we've developed Dental Claims Academy.
In every course offered through DCA, we provide the most practical approaches to learning about dental billing. In other words - we've learned what works and what doesn't from experience. In this article, we will share the most efficient ways to learn about dental billing, and why we find these approaches helpful.
Find legitimate dental billing training run by experts
The most efficient way to learn about dental billing is to enroll your dental team in formal dental billing training.
We know there are plenty of resources available - articles, YouTube videos, newsletters - and the biggest appeal to these is that they are free. And there is great information from resources like these. But reading something doesn't always mean you're learning how to apply that knowledge.
Structured dental billing training will be most effective. This means you'll find a platform that supplies courses, presentations, and direct access to billing experts.
When your team can have a more interactive learning experience, and talk to real billing experts about their billing issues or questions - they will learn and absorb more. Plus - when you are educated by people who have been trained to present information in a digestible format, it's easier to learn. We'll dive into this more later.
Choose dental billing training based on vetted expertise
The best way to learn about dental billing is to find real experts on the subject. This means talking to people who are qualified to provide accurate information - previous office managers, insurance coordinators, dental billers, or even dental hygienists.
How do you know who is qualified? Look for third-party approval, such as AGD PACE. That's the Academy of General Dentistry program to officially approve content for continuing education. No one understands dental billing like the people who work every day to streamline insurance claims submission, insurance aging reports, and payment posting, and have had their courses approved for continuing education credit.
So when you are looking for resources to learn about dental billing, try to find a platform that has been created and is run by billing experts, and is vetted. This might take a little internet digging. But trusting the people who are training your team can ensure you're getting information that will actually impact your bottom line.
Access to expert dental billing knowledge will also guarantee you are getting high-quality training, and accurate information regarding dental billing.
Why is formal dental billing training the best way to learn?
Dental billing and dental insurance are very specific, niche topics. There is a plethora of information out there on these topics, and it can be hard to verify which sources are most reputable. Some of the people creating this content do not necessarily know how to write or convey the density of dental billing in a digestible manner.
Because of this, you could be staring at an article or watching a YouTube video with tons of information - then realize afterward you didn't learn a single thing. Information dumping is hard to absorb.
When you utilize a real dental billing training resource, you're working with real people who have been trained on training. Confused? Let us explain.
Use a training platform where you can learn from real people who know how to train dental billers
What we mean - these people not only are experts on dental billing and all it encompasses - they also have been trained to educate others on this information. This means they present information step-by-step, in more simplistic terms. And they make sure you understand the "why" behind each step. This kind of depth helps retain information better.
For example, one of our founders at Dental ClaimsSupport, Josh Smith, creates and manages the training program at Dental Claims Academy. When we discuss dental billing, he will often use an analogy to help me (and others) understand the topic we are discussing.
Another course content author is one of our top trainers for our internal team.
Drawing from his previous experience as a dental office manager, he will explain in detail a real-life scenario. This is a great way to learn.
Not everyone keeps this educational mindset when putting out training content online. This is why formal billing training is so valuable - it will help your team fully understand and retain the dental billing information.
Ready to invest in your team's dental billing training?
When it comes to dental billing training, it's important you find the most efficient way to educate your team. You need to find a reputable, formal training platform that is created and maintained by dental billing experts.
This will ensure that you aren't wasting any time or money on how your team is trained on dental billing. And through this formal training, you'll know your dental billing is being handled with the utmost care.
Dental Claims Academy is one of those reputable training resources that your team can utilize. Our courses, webinars, and live chats with experts are available to help your team successfully run your dental practice.
"...the best I have seen in my dental career. Every tool needed to be successful is presented and delivered in such a way even a person new to the dental world would catch on in a blink." - Cherie Davis.
Invest in your team's dental billing training and the success of your practice by visiting Dental Claims Academy.
Related Posts
Dental billing resources