How to handle a dental patient who has a problem with their bill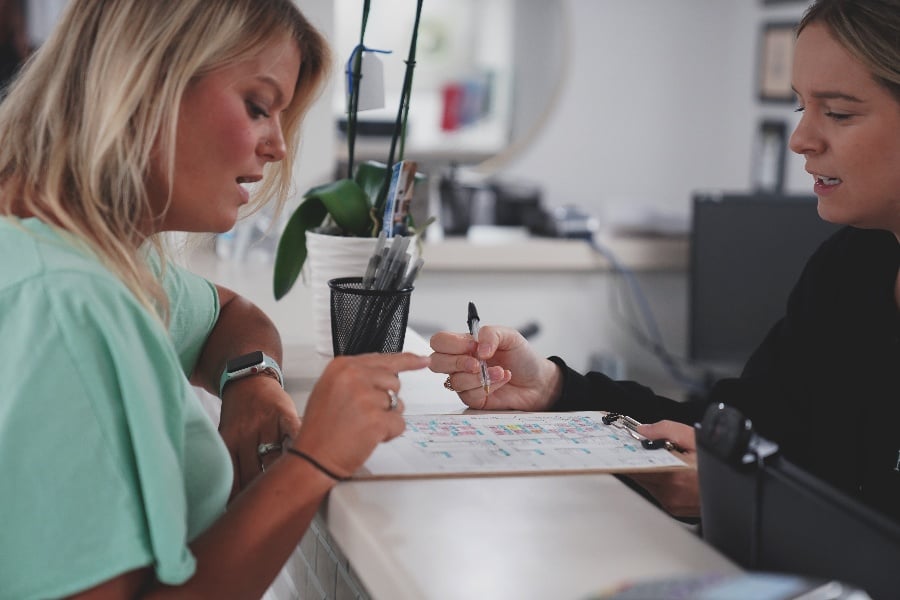 When a dental patient has a billing issue, it's often hard to know what to do. You want to be understanding and empathetic, but you are running a business and need to collect your revenue as well. So how do you handle a dental patient who argues with you about their out-of-pocket cost?
At DCS, many of our billers are former dental office managers. So - we can speak from some experience about how to handle a dental patient who has a problem with their bill.
In this article, we will share 3 common scenarios where a dental patient is unhappy with their bill and some helpful solutions. When you feel prepared, you and your team will have the confidence to communicate more easily with patients about their concerns and boost your income and relationships.
Let's dive into 3 scenarios of dental patients being upset about their bill, and how to handle the situation, so that you can get the money you're owed while maintaining a good relationship.
Scenario 1: Dental patient feels you overcharged them and feels their insurance should cover more
Let's say your dental patient comes in for a crown, and afterward, when you tell them their total out-of-pocket, they get angry. It's $1000, and their insurance only covers 50% for this procedure, therefore their out-of-pocket is $500. They claim their insurance should cover 80% of the cost, and that you are overcharging them.
They insist their insurance should be covering more of their treatment. They begin raising their voice, growing even more reluctant to pay the total. What do you do?
Solution: First listen. Then calmly state the payment policy in place for your practice
Always listen to your patient without interruptions and keep your voice low. If the patient is loud, bring them into the consultation room, office, or somewhere private to discuss. Don't assume that the patient is wrong; review their concerns with them.
Ultimately, you may need to remind your patient of your payment policy. A good payment policy makes clear that the patient is ultimately responsible for the fee, no matter what their insurance policy covers. Assure them that you have filed their claim and determined their balance due appropriately.
Ideally, you had a conversation surrounding your policy about patient financial responsibility and the limits of insurance benefits before their treatment. It may help to kindly remind them of this conversation, and explain how their insurance benefits typically cover a part of the work. If they can see the math behind how much their insurance policy will cover, they will likely stop arguing.
---
Related: 3 steps to explain dental insurance coverage to a patient
---
You can even pull up their insurance portal and show them the numbers you have on file about how much a restorative treatment, such as a crown, could be covered. Having an honest conversation about their insurance policy often helps smooth the path to payment.
Offer a payment plan if you have one
If the ability to afford the cost is the issue, offer a financing solution so that the patient can pay in installments. You may want to offer a payment option such as credit card, cash, check, or 3rd party financing.
If you don't already do this, give patients a copy of your payment policy to sign, stating that they understand they are ultimately responsible for the cost of treatment, no matter what their insurance does or does not cover. For more expensive procedures, it may help you to have them sign their treatment plan that outlines the procedure, your fee, and the estimated amount due.
Give a copy of the signed policy document to the patient and keep one on file. If there's a problem in the future, you may find it helpful to refer to your copy to remind them they have already signed off on your policy.
Scenario 2: Dental patient is frustrated to receive a bill in the mail for additional payment
Let's say you billed your patient based on their out-of-pocket estimate, but their insurance didn't cover as much as you had estimated. So, the patient owes your dental practice more than they planned to pay. Sometimes you have to send unexpected bills to your patients, which is unpleasant.
So your patient is unhappy about the additional cost and demands to know, "What is this? Why do I owe you even more money?"
Solution: Apologize for the inaccurate estimate - and kindly explain why their actual cost did not match the estimate
A kind apology can help a lot here. Express that you understand their frustration. Then kindly remind them that when you explained their out-of-pocket fee initially, you offered them as an estimate. Mention your policy that says patients are responsible for the entire fee, no matter what insurance covers.
Offer to show them their EOB and give them all of your payment options.
One of our experts, a former office manager, shared her best strategy to turn these objections around. When patients shared they were unhappy about a balance due, she responded:
"I'm so sorry for the inaccurate estimate. I understand your frustration. In the future when you come in for treatment, you are welcome to pay the full fee and we will file your claim electronically for your quick reimbursement. That way you will never get an extra bill in the mail from us."
A prepayment policy allows patients to be proactive and avoid surprise bills. Even if nobody agrees to prepay, it reminds them they have the responsibility for the cost of care.
Scenario 3: The dental patient paid too much and they are owed a refund
In our last scenario, let's say the dental patient's out-of-pocket estimate was higher than it needed to be, and they realize they overpaid.
In most cases, you will likely be the first to notice they are owed a refund and let them know. But in a worst-case scenario, let's say the patient found out first.
So you get a call from the patient saying they are owed money because your out-of-pocket estimate was too high. The patient noticed that the insurance payment plus their out-of-pocket payment was more than your fee.
So they are upset and demand a refund.
Solution: Apologize for the inaccurate estimate and offer options for a refund
Out-of-pocket estimates can occasionally be inaccurate, as explained above. So when your patient overpays, mention the good part is that their insurance covered so much of their procedure. Then offer options for a refund.
Ideally, you would issue the refund using the same payment method the patient used to pay your bill. Check with your accountant to see what method of refund is best. Pro-tip: If they paid with CareCredit, the refund must be issued to CareCredit according to their terms of agreement and the fee paid to the dentist is reduced. Always check your contract with healthcare credit cards or financial service providers you use.
When appropriate, ask the patient if they would like to keep the credit on their account to use next time they have dental treatment, or if they would like it refunded. Be sure to document the patient's agreement to carry a credit in your financial notes as this helps with the unclaimed funds audits that most states have.
Ready to help patients resolve billing issues with confidence?
Knowing how to handle a dental patient who has a problem with their bill can be challenging. But you're running a business, and collecting patient payments is crucial to consistent revenue.
With solutions to common payment issues in mind, you can handle them confidently knowing you can help patients accept their responsibility to pay while maintaining good patient relationships.
Dental ClaimSupport provides dental claims processing and patient billing services so that you're fully equipped to lead your practice and team. We believe that the best way to deliver a great patient experience is to have worry-free revenue collection systems.
To learn more about how to make patient billing and insurance income easy, schedule a call with a billing expert at DCS.
Related Posts
Dental billing resources