5 ways outsourcing your dental billing improves patient experience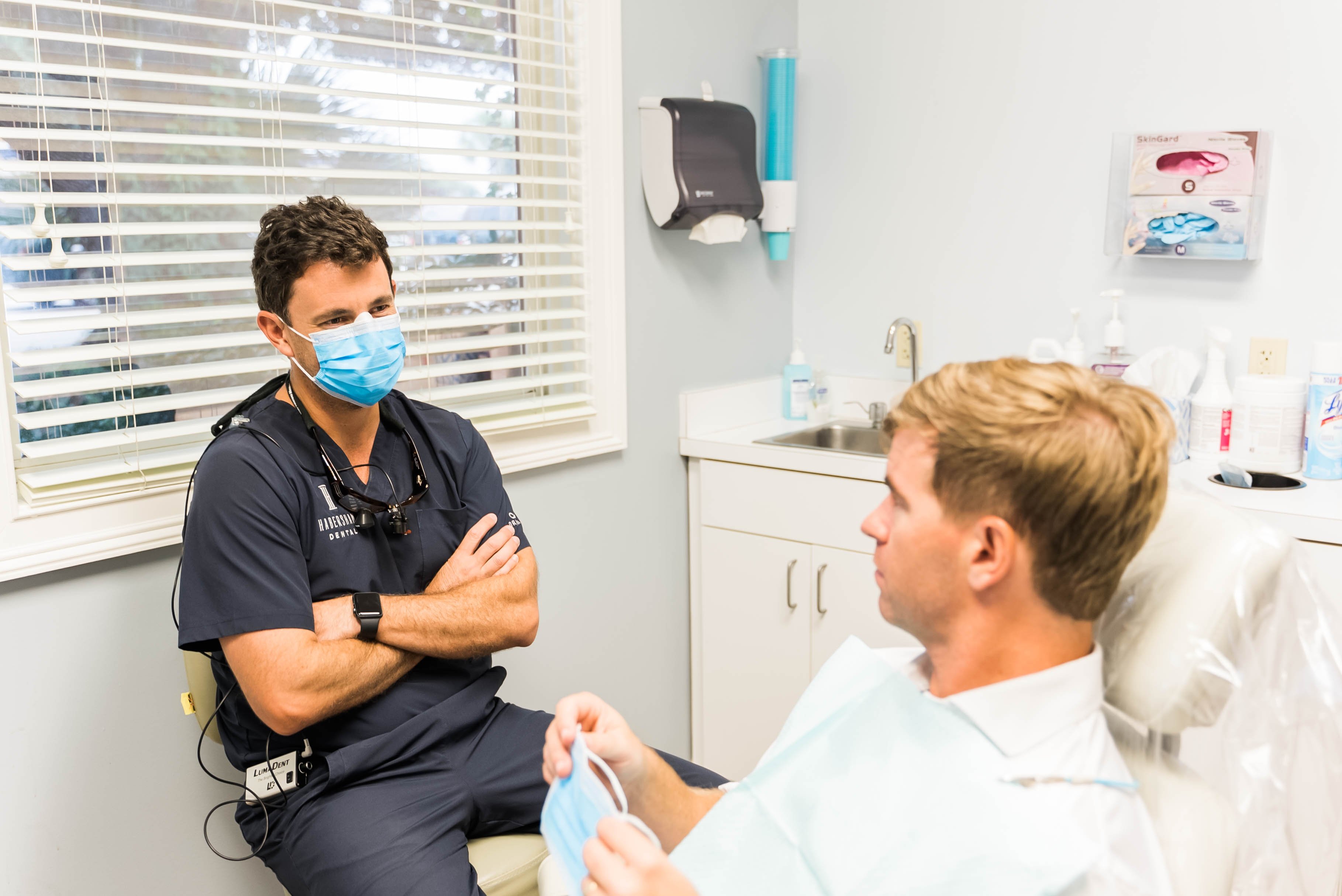 Dental patients notice more in your office than you might think. Sure, the top priority is to see a dentist who can give them amazing dental care, but the experience they have in your dental office can make or break their return rate. You can dramatically improve the dental experience with a simple step: by using a dental billing service.
When your dental team is overwhelmed or stressed because they can see the billing system isn't working, patients will feel it. Our billing team at Dental ClaimSupport has often heard dentists say how relieved they are to have the most time-consuming, frustrating dental insurance tasks taken care of every day.
The dentist and their team are empowered to create the best patient experience possible - because they finally have the time to do so.
In this article, you will learn 5 ways a dental billing service allows your dental team to give your patients an amazing experience because you have better cash flow, less insurance strain, and more time for genuine, quality attention to your patients. The human interaction you give the patients is priceless, and that experience should not be overlooked.
Let's get into the 5 ways outsourcing your insurance billing can improve the dental patient experience.
1. Better use of patient benefits
Your patients want to avoid dental insurance issues. And they want your help at the front desk to use their benefits fully and correctly. But getting claims paid is time-consuming, so it's easy for the dental team to spend more time getting claims paid than helping patients use their benefits.
When you outsource with a dental billing service, it's like having a team of experts in your back pocket. These experts work consistently and efficiently through your insurance claims to collect the greatest amounts at the lowest cost.
Because these billers sharpen and share their expertise, there are less mistakes on your claims or appeals. So you get paid faster with fewer delayed payments from insurance companies.
These experts are not only trained specifically on the ins and outs of insurance billing, coding, and compliance, they have a pool of fellow experts to turn to if they have questions.
You will have time to educate your patients on their insurance benefits
When patients walk in with complex coverage scenarios, you can welcome them with confidence. Dual insurance? Medicare benefits? Out-of-network coverage? You can assure them their benefits will get used correctly.
You'll have time to help patients max out their benefits so that it doesn't go to waste and split their treatments up between years so that they can always be covered before they "max out."
Taking the time to talk to patients about each of their circumstances is what will bring them into your dental office. Understanding their benefits and their personal situation is how you're going to gain their trust and get them into the dental chair. And this can all be achieved when you don't have to spend excessive amounts of time on your insurance billing.
2. Fewer billing errors
Any patient is going to be affected when you make a billing mistake, especially if you are a fee-for-service provider. They are expecting a check for reimbursement in the mail two weeks after their procedure from the insurance company.
If they don't receive that - you can bet you're going to hear from them, and they won't be happy.
Your patient will blame you – not the insurance company – if there is a problem with reimbursement
When someone on the administrative team is handling insurance billing but also has other responsibilities on their plate, it's easy to make mistakes on claims.
These mistakes could range from the patient's name to their insurance ID number. It's a lot of information to input, so the mistakes are easy to make! Especially if you're juggling scheduling and patients.
Unfortunately, your patient is probably going to turn to you for answers, not the insurance company for a delay in their reimbursement. It might not always be the biller's fault (insurance loves to find ways to deny claims), but it is your responsibility to get the claim processed.
If you have an outsourced dental billing company helping you with claim submission and follow-up, you'll feel less rushed to create the claim and make fewer errors.
3. Administrative teamwork is better and everyone is less stressed
It's easy for patients to tell if there is tension in the dental office. Patients can sense discord between team members or a frantic feeling in the air.
It's a fact that any dental team will make fewer mistakes when they feel confident and relaxed, and this creates a better work environment. Your patients will notice this too.
As your team knows - insurance billing is a complicated process. On top of this, insurance companies use stall tactics which makes the process even more frustrating and time-consuming. This, combined with trying to get other work done in the office can put a lot of pressure on your team because they can't fix problems they don't have time to address.
When the team is less stressed there is a healthier work environment
Listen - we understand not everyone is going to be happy-go-lucky every single day at work. Even if you love your job, it's still work!
However, if your front desk people are running themselves into the ground trying to handle insurance billing and all their other tasks - everything else becomes more difficult. Even being pleasant to patients.
The dental billing company improves the attitude and work-life balance of the dental team by giving them time back in their day. A support system for the task of dealing with insurance can give them some breathing room to enjoy their jobs with more positive energy.
They can take real lunch breaks, take their time checking patients in and making sure the patient is taken care of, communicate effectively over the phone and keep track of all of the moving parts of your dental office.
Your patients will notice how your team feels about their job, and if everyone is in a pleasant mood - they're going to feel more at home and relaxed (especially if they're about to get a nasty dental procedure done!).
4. Better quality of attention to patients
When your team has established a good daily rhythm, and everyone knows what they are responsible for - you'll see a transformation in the quality of attention given to patients.
If you're bogged down with insurance billing - you're not going to be able to multi-task and also chat with patients in the waiting room (if you can - props to you because insurance billing requires masterful concentration).
Getting to know your patients personally helps to build a relationship of trust and confidence. When you have built this type of relationship, you will notice that your new patient referrals from your patients will also increase. Team members will also have more time to call the patients who have unscheduled appointments.
Connecting with patients can help maintain and increase retention
One former office manager recently told me about what it was like to connect with patients while also handling insurance billing.
"I loved talking to patients at the front desk - but when it came time to post insurance payments and work the aging report, I had to lock myself in my office and get that work done without being distracted. Thus, I could not interact with patients at all during those times. Or even run the office."
Outsourcing with a good dental billing company gives more time for human connection back to your team.
You can form friendly relationships with patients, giving them that personal touch that makes your dental office pleasant to visit.
5. Healthier cash flow that can lead to better treatment
Speaking of patient retention - when patients love coming to your dental office because you have the time to devote to them… you're going to make more money!
And not only will you have time to give the amazing customer service the patients deserve. You'll also drive healthier cash flow from insurance and patient payments that allows your practice to invest in new technologies, equipment, and even your furniture and decor.
This can help your practice look and feel more updated and professional, and draw in even more patients.
Patient retention means your practice will be more financially successful
Although you provide dental care, your practice is still a place of business. Dentists in private practice face more challenges than ever to be financially secure.
When you improve patient retention by providing a great patient experience, you're able to bring in more revenue. Everyone at your practice will benefit from this. You'll be able to not only take home more money for yourself but also pay your employees the raises and bonuses you want to.
Outsourcing your dental billing can give you time to think about strategies that will bring your practice more money.
Find out 3 revenue goals your dental practice should have in our Learning Center.
Ready to create an amazing dental experience for your patients?
Your place of business and the people that work there are valuable. Offering them the tool of outsourced insurance billing can empower them to be the best versions of themselves, without the strain of processing insurance claims.
Through this empowerment, they can create a warm and positive experience for patients, encouraging those patients to not dread the dentist so much.
Dental ClaimSupport's services can give your team time back in the day to be all-star employees and perform their job with a great attitude that patients are sure to notice.
To learn more about how to retain your patients and give them a great experience, read our article, "The top 5 billing reasons your dental patients will quit your practice."
Related Posts
Dental billing resources