The cost of revenue cycle management services vs. in-house dental billing: 5 questions answered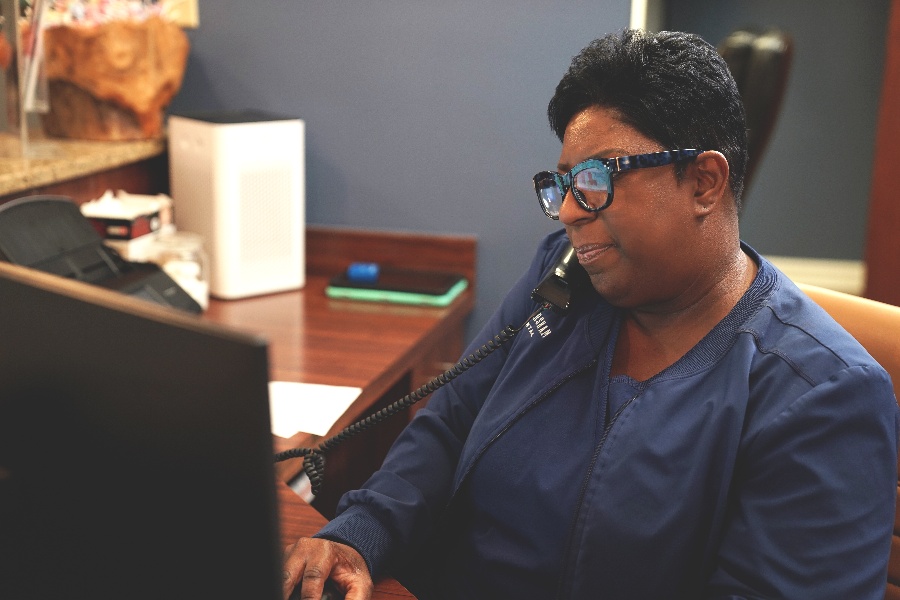 You have to have someone in charge of managing the millions of dollars that flow through your dental business. With the complexities of dental insurance and patient billing, AND the huge responsibility of practice management—it's impossible to have one in-house team member handle it all.
So now you're at a crossroads, trying to decide between working with dental revenue cycle management (RCM) services, or hiring someone in-house. You want to increase revenue, but you also need a cost-effective option that can grow with you.
As a full-service RCM provider, DCS has seen many dental leaders struggle to decide how to handle revenue cycle management: with a service provider or in-house.
You're probably asking: "How much do dental billing services cost?" Because RCM includes all parts of your revenue cycle, not just insurance billing, we'll break out just our insurance billing service to compare with hiring an insurance coordinator.
We're answering 5 questions about the cost of RCM services for dental billing, compared to the cost of a full-time insurance coordinator.
How much do RCM services cost for dental insurance billing?
How much do insurance coordinator salaries cost?
Can you save money by hiring RCM services versus hiring someone in-house?
What if we have multiple people handling our revenue in-house?
What other benefits are there to working with RCM experts at DCS, versus in-house billing?
1. How much do dental billing services cost, performed by an RCM company?
There is one main factor that affects your costs for RCM services to handle claims: The amount of insurance revenue collected each month.
These are the different service pricing tiers based on total insurance collections, and the monthly fee for each tier:
Under $40k collected = $1,350/month
$40K to $100k collected = 3.5% of your collections, maximum $3,500/month
$100K up to $150k collected = $3,500 plus 3% of the amount over $100K, maximum $5,000/month
$150k up to $200k collected = $5,000 plus 2.5% of the amount over $150K, maximum $6,250/month
$200K up to $500k collected = $7,500 plus 2% of the amount over $200K, maximum $12,250/month
For example, let's say a dental practice's total insurance collections are $45k per month.
To receive $45K in insurance revenue monthly, the cost estimate for expert RCM service with DCS is:
Month: $1,575
Year: $18,900
2. How much does a dental insurance coordinator cost?
The average salary for a dental office insurance coordinator is $22/hr, according to a 2022 Dental Post Salary Survey,
An insurance coordinator earning $22 per hour will actually cost you between $45,760 and $64,064 per year, depending on benefits.
In-house W2 employees also have overhead costs above and beyond their hourly or salary rate. W2 employees for any business cost on average 1.25 to 1.4 times the base salary range. This extra compensation includes employer taxes such as social security, federal and state unemployment, Medicare, workers' comp insurance, payroll costs, as well as any benefits you may offer.
This means you can expect the total compensation to be 25% to 40% higher than the employee's base salary.
At $22 per hour, your average dental insurance coordinator costs $57,200 per year excluding benefits. Any bonuses given to W2 employees would be added to this calculation.
So far, our cost comparison looks like this:

To receive $45K in insurance monthly:
| | | |
| --- | --- | --- |
| | Monthly | Yearly |
| DCS | $1,575 | $18,900 |
| In-House | $4,767 | $57,200 (no benefits) |
3. Can I save money by partnering with RCM experts versus hiring someone in-house?
As this example shows, you can indeed save money partnering with RCM experts for dental billing.
RCM services with DCS are priced to save your business tens of thousands of dollars yearly.
In our example, to collect $45,000 in insurance payments monthly, the cost savings per year is:
| | |
| --- | --- |
| In-house | $57,200 |
| DCS | $18,900 |
| Saved | $38,300 per year with DCS |
Use our savings calculator to input your own practice's numbers to see the savings for yourself.
4. What if we have multiple people managing revenue in-house?
You need to consider how many employees you will have working on your revenue-related tasks such as insurance verification, sending claims, working insurance aging reports, posting dental insurance payments, and patient billing.
For example, some dental teams have insurance coordinators along with the office managers managing these tasks, or possibly 2-3 employees dedicated to dental insurance.
Having multiple in-house employees handling your revenue cycle will impact the cost breakdown, and these must be considered in any calculation.
5. What other benefits are there to working with RCM experts at DCS, versus in-house billing?
Not only is partnering with RCM experts more cost-effective, but you'll see other benefits as well:
Streamlined processes. RCM experts continuously stay up to date on the best practices to manage your insurance claims. The processes they will implement to submit and follow up with your insurance claims will lead to a smoother-running practice.
Higher revenue. Because RCM experts are using their knowledge to submit and follow up with your insurance claims, you'll see faster reimbursement. This leads to higher insurance claims collections.
Increased patient satisfaction. With RCM services, your in-house team is no longer bogged down with insurance claims management. They're empowered to create a stellar patient experience through focused customer service, personalized treatment plan presentations, patient check-in, and more.
---
Related: Dental providers thrive with outsourced revenue cycle management: 5 key benefits you'll see
---
Ready to save with expert revenue cycle management services?
Cost is inevitably a major factor when you are considering how your revenue is managed.
Partnering with revenue cycle management experts can be a less expensive option, but it also allows your in-house team to spend their valuable time on other tasks that could make your practice or group more money.
Filling the schedule
Marketing the dental business
Following up with unscheduled treatment
Providing outstanding customer service
DCS provides end-to-end RCM services that empower your team to put patients first, and collect revenue easily.
To learn more about how revenue cycle management services can increase your profits, schedule a call with one of our experts.
Related Posts
Dental billing resources