Partnering with dental insurance verification services: 5 benefits you'll see at your dental group or practice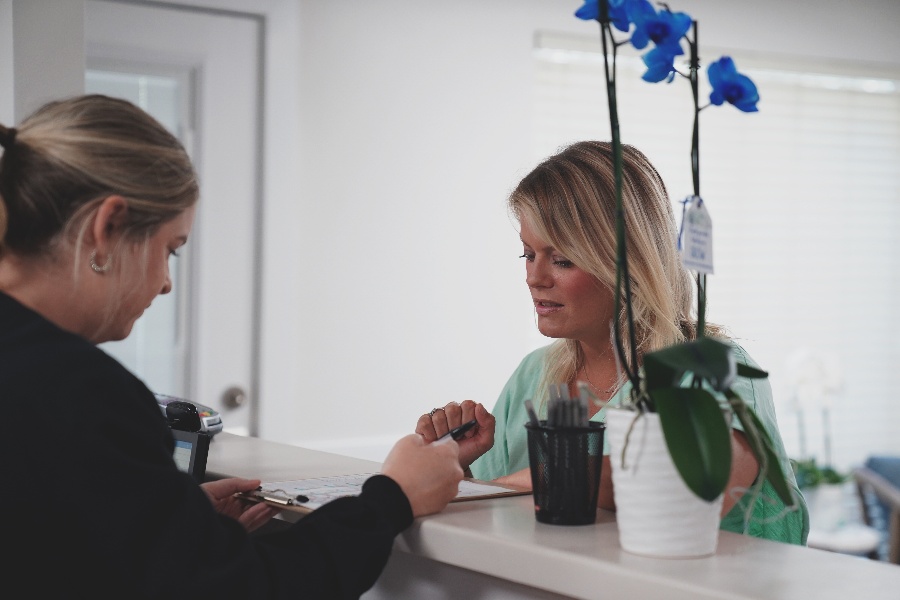 Insurance verification is vital to the success of a dental practice or group. It sets the stage for efficient revenue cycle management as one of the first steps in the process.
Both dental practices and groups struggle with insurance verification because it's labor-intensive, and time sensitive. And it requires expert knowledge of dental insurance and how to use the information.
Though it's essential, a busy team may not be able to update every patient's coverage data before the appointment. Using outdated information will delay payment.
This is why we at DCS recommend using dental insurance verification services. As an end-to-end RCM service provider, we've seen how mistakes made during insurance verification can lead to payment delays in the future.
This article will cover the 5 benefits of dental insurance verification services. Using dental insurance verification services can help your dental practice or group:
Improve the patient experience

Increase efficiency

Reduce your financial risk

Increase financial transparency

Give you a competitive advantage
It's crucial that insurance verification is performed accurately because it will directly impact how you will collect from both sources of your revenue: insurance and patients.
1. Improved patient experience
Your goal as a dental practice or group is not just to succeed as a business. It's to provide excellent care for your patients that will have them returning.
When you use insurance verification services, your patient experience will improve due to:
Lower wait times.

When insurance is properly verified ahead of time, your patients will see a reduction in wait times.
When a patient arrives for their appointment, they may need to wait while the front desk staff verify their insurance information. This process can take several minutes or even longer if there are complications.
If the practice uses a dental insurance verification service, this process can be done ahead of time, which means that patients can be checked in more quickly and efficiently.
Greater accuracy in insurance information.

There will be little to no confusion about your patient's information because it's been checked and verified.

Dental insurance policies can be complicated, and it's easy for front desk staff to make mistakes when verifying insurance information.
These mistakes can cause problems down the line, such as claim denials or unexpected out-of-pocket expenses for patients, which can really put a damper on a patient's experience with your practice
Enhanced patient satisfaction.

By verifying insurance information in advance, dentists provide patients with more accurate cost estimates and avoid surprises. This improves trust and loyalty, which fosters appointment attendance and referrals.
When your patients trust you and know you're on their side, they will return to you for treatment and tell their friends about your amazing dental practice. This kind of reputation is invaluable.
2. Increased efficiency
Verifying insurance information is just one of many daily tasks that administrative teams need to complete. The effort to gather data for every appointment makes it difficult to allocate time to other necessary tasks.
According to an SRS Web Solutions, Inc survey of 2,500 dental practices mentioned in Dental Economics, 50% of dental office time goes toward verifying the eligibility of patients.
Insurance verification services reduce this burden on your team. Your in-house team can then spend their valuable time on other responsibilities, such as:
Patient scheduling

Patient check-in and check-out

Answering phone calls
By reducing the amount of time spent on insurance benefit verification, practices can become more efficient and productive. Plus, the RCM experts (specifically, at DCS) help improve accuracy by using the latest dental insurance verification software.
The entire operation will run smoothly because your team isn't bogged down with insurance verification duties.
3. Reduced financial risk
Dental practices and groups rely heavily on insurance reimbursements to maintain profitability. However, when insurance claims are denied or underpaid, practices can face significant financial losses.
By outsourcing your insurance verification process, you'll reduce your financial losses through:
Reduced errors and denials.

Mistakes made during the insurance verification process can result in claim denials, which can be costly.
When you use IV services, experts are verifying patient insurance information — with this dedicated time and expertise, you will see fewer mistakes that lead to claim denials
Streamlined processes.

RCM experts make sure to perform IV for patients at least 3 days before patient treatment. This reduces errors on claims as well, because no one is rushed to collect insurance information.





Improved cash flow.

This helps to ensure a clean claim is submitted for quick reimbursement, reducing financial stress as well.
Insurance verification services can help practices maintain profitability and provide high-quality care to their patients.
4. Increased financial transparency
Financial transparency is essential in any healthcare practice, and dental practices or groups are no exception.
When you outsource dental insurance verification services, you'll be able to improve:
Informed consent.

Patients want to know what their insurance covers, what their estimated out-of-pocket expenses will be, and what they can expect from their treatment. You have information to explain alternatives, risks and benefits, and costs.





Clear communication.

When using insurance verification services, your patients will have a clearer understanding of insurance coverage. Dental insurance can be complex, and patients may not fully understand what their policy covers.
You will have more time to properly communicate to your patients what they can expect from insurance coverage.
Insurance verification services will provide timely updates on patient insurance policies. Policies can change frequently, and patients may have questions or concerns about their coverage.
By using a dental insurance verification service, your in-house team can stay up-to-date on changes to insurance policies and provide patients with timely updates about their coverage, because the RCM expert will let you know.
5. Competitive advantages
Insurance verification, performed well and consistently, will give your private practice or dental group a competitive advantage.
Dental groups, specifically, want to stand out among other dental groups to attract both patients and providers. When you outsource dental insurance verification services, you have the ability to provide superior patient care. This supports better financial health and the kind of patient experience that people value.
Positive word of mouth goes a long way.
---
Related: 5 tips to get more dental patients
---
Patients who receive accurate and timely information about their insurance coverage and out-of-pocket expenses are more likely to feel satisfied with their care and return to the practice for future treatments.
Your staff will be more invigorated to provide a better patient experience as well, because they see their impact on the success of the practice, without having to spend long hours on administrative work.
This leads to your in-house team feel satisfied with their jobs, creating a more positive work environment, which can be attractive to new patients.
Ready to reap the benefits of using a dental insurance verification service?
By ensuring that insurance claims are processed accurately and in a timely manner, IV services can help practices and groups maintain profitability, provide high-quality care to their patients, and build a positive reputation in their community.
With the complexities of dental insurance policies and regulations, dental insurance verification services are becoming increasingly important for practices of all sizes.
By partnering with a trusted dental insurance verification service, practices can focus on what they do best – providing excellent patient care – while leaving the administrative tasks to the experts.
Schedule a call with DCS to learn more about our insurance verification services
Related Posts
Dental billing resources