3 problems you'll see at the dental practice with virtual card payments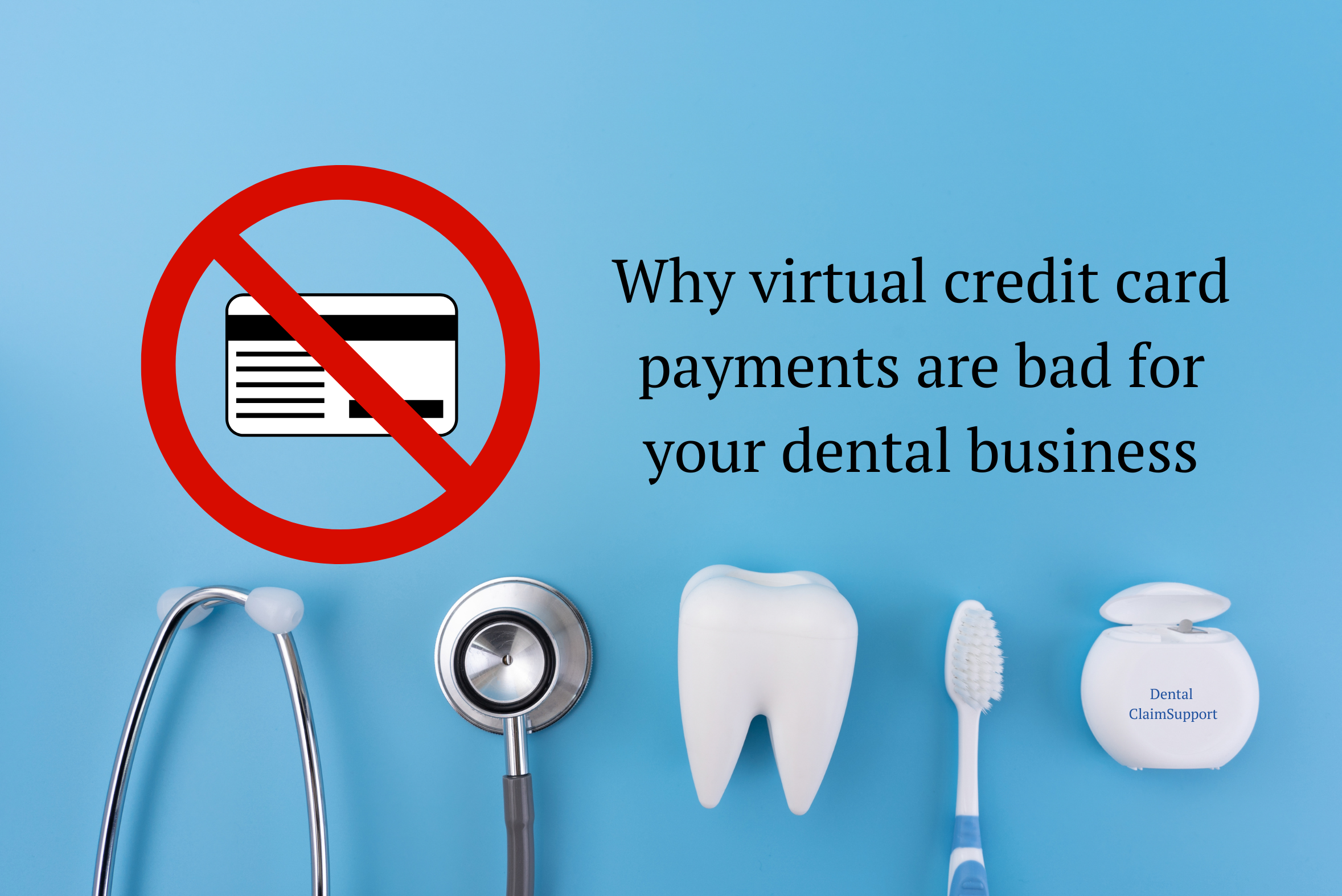 Does your dental practice accept virtual credit card payment from dental insurance companies?
If you do, you're losing money you could be putting in the bank.
What are virtual credit cards in healthcare?
Virtual credit card payment is a way for insurance companies to send money for your insurance claims. They're also called vcards, VCC payments or virtual credit card payment in medical billing.
In dental billing, you'll likely get vcards electronically from a health insurance plan as a form of claim payment. You're expected to enter the 16-digit number into your card terminal, as you would for a patient paying by credit card. There's a catch: vcards cost your dental practice a lot more than you think.
It's tempting to quickly process the virtual card payment so that you can post it as soon as possible.
If you thought virtual credit cards are worth the convenience, we don't blame you! It's hard enough to get reimbursement from insurance. Why delay payment to be picky about what form it comes in?
However, virtual credit card payments come with hidden costs. These work against the financial health of your dental practice. Virtual credit cards are bad for your dental practice because:
You lose revenue by paying merchant fees

Processing the card creates more work for you

Virtual credit cards open opportunities for embezzlement
Problem #1: Lost revenue



When you accept virtual credit card payments from insurance companies, you are also agreeing to the merchant fee associated with the virtual credit cards.
This merchant fee means less revenue for your practice. You might be thinking, "Is a small fee really going to impact the revenue at my dental practice?"
Yes, vcard fees reduce your profits. Rates are often higher for virtual credit cards than for in-person cards. While a merchant such as Visa might charge about a 2.7% fee for in-person payment, a virtual card merchant fee will likely be higher. Some charge as high as 3.5% plus $0.15 per transaction, according to payment processing company, Nadapayments.
If you create 20 claims a day at $200, you pay $120 in fees per day at 3%. That's $30,120 lost profit over 251 working days (the approximate number of business days in a year).
Do you really want to pay a fee to your bank to receive the money that you worked hard to earn?
It's important to be mindful of the true cost of virtual credit cards over time. But as you can see, the cost adds up.
Problem #2: Inefficiency
Running a virtual credit card requires more time and effort than it's worth.
Virtual credit card payments add another step to the posting process. Instead of simply posting an insurance payment to a claim and ledger, your staff now has to post that payment, then run the card through the terminal.
This additional step multiplied by the number of virtual credit card payments you receive wastes valuable time.
Plus, it makes accounting even more complex, because it's another mode of payment to track. This creates more opportunities for accounting errors. Insurance billing is already complex.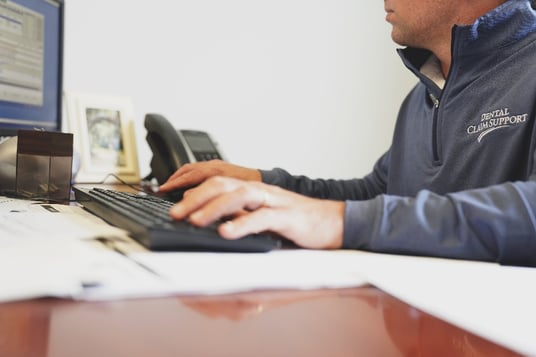 The process of reconciling many types of payments can be time-consuming and confusing. Some dental software programs can't even add virtual credit card payments to your other insurance payments. They don't have the capability. So, virtual credit card payments are added to your patient credit card payments.
As a result, your collection totals by payment type are skewed. Your patient payments will seem higher than insurance payments. This can cause accounting problems. It doesn't reflect where your income is coming from.
Removing virtual cards from your revenue stream makes your workflow that much simpler.
---
Related: How to close 90% of your claims fast: 3 ways a dental biller helps
---
Problem #3: High embezzlement risk



The use of virtual credit cards increases the opportunity for embezzlement at your dental practice.
Dental practice owners are already vulnerable to embezzlement due to lack of time and business training.
In 2019, an ADA survey revealed that 49% of dentists they polled had directly experienced embezzlement.
Accepting virtual credit card payment increases that risk.
Anyone with a credit card reader can misappropriate funds. It's easy enough to process a virtual card on a device that puts the funds elsewhere. Practice owners should be aware of this vulnerability and take action to protect their practice.
---
Related: How to control the risk of embezzlement in your dental office
---
How to rid your practice of virtual credit card payments
There are a few things you can do to opt out of virtual credit cards, and avoid them in the future.
To protect your practice from the present and future drain of credit card payments, you need to do two things:
Understand how your practice can get signed up for virtual credit card programs automatically, and how to avoid future enrollment

Take steps to opt out of virtual card programs you're enrolled in, and switch to a better form of payment
How you can get signed up for virtual credit cards without knowing it

You might be thinking, "How did I let this happen?"
Don't be too hard on yourself. A lot of dental practices are auto enrolled for virtual credit cards without even knowing it.
If you simply accept payment from insurance in the form of a virtual credit card, you will likely be auto-enrolled into their virtual credit card program, even if you weren't before. Your payouts are now subject to those merchant fees that you want to avoid.
Do NOT accept these virtual credit cards as payment from insurance. Even if it means you receive delayed payment on a claim.
Steps to opt out of virtual credit cards
Opting out of vcards is hard work.
The process to opt out and set up other forms of payment may require using one or more of these resources:
These resources are from respected organizations, but they require more time and money from your team to contact, research, and implement.
Consider having experts help you with the hard work of opting out of virtual credit cards
There's an easy way to get rid of virtual credit cards once and for all: Work with DCS. Opting you out of virtual credit cards is part of our insurance billing service. We will set your practice up with easier, more trustworthy payment methods:
Electronic funds transfers

Checks
Our experts work to remove the stress of dealing with insurance companies from your team. This includes making sure your payment method is easy and streamlined from each insurance company.
Use a trusted resource like DCS to opt out of virtual credit cards, and collect more for your practice
Now you know how to bring a great deal more value to your practice by removing vcards from your healthcare revenue stream.
You will:
Collect thousands of dollars more every year

Be available for more important duties like patient care

Reduce the risk of embezzlement for your practice
Getting out of virtual credit card programs is a big pain. It's a job you don't need to take on alone. DCS quickly gets your dental business out of these programs, as a service to our customers.
Our expert billers ensure your claims submissions and payments are clear, accurate, and compliant. Your practice will be easier to run (and protect) with worry-free revenue collection.
Streamline your payment system
By streamlining your payment types, you will get paid faster, and avoid errors that will cause payment delays. You will also have clearer information about where any and all revenue is coming from.

Streamlined cash flow is just one of many benefits of using revenue cycle management services at DCS. To learn more about our billing services and how they can benefit your practice, schedule a call with one of our billing experts.

This article was originally published in December 2021, and was updated in January 2023.
Related Posts
Dental billing resources