$1,000,000 collected from dental patients in just 6 Months? Wow! Here's how…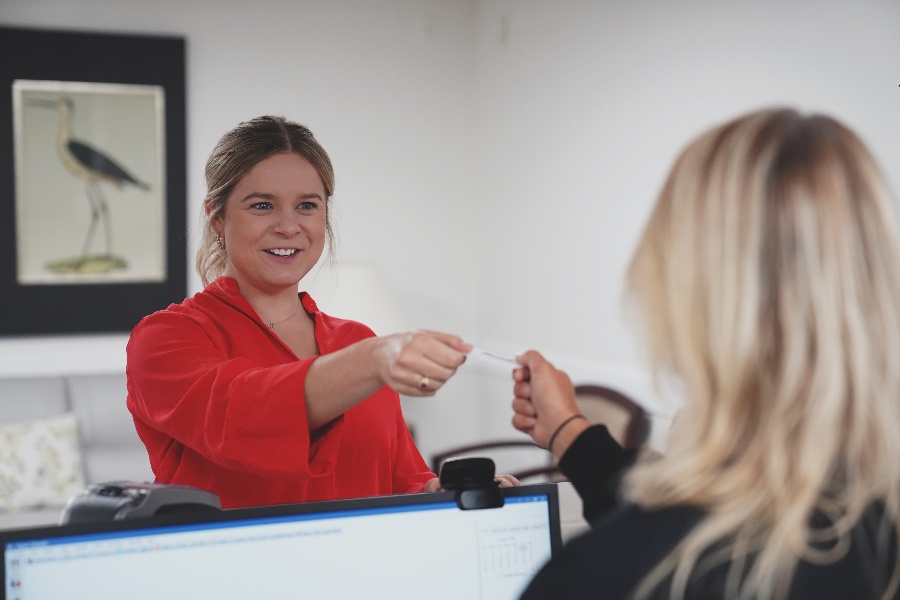 Imagine a world where financial worries are a thing of the past, and your practice thrives with a steady influx of revenue.
You might be thinking: Dream on! We struggle so much to collect from insurance claims and patients, that will never happen.
Collecting from patients is indeed a special challenge because of the thin line between sending a payment reminder and upsetting a slow-to-pay patient.
But you're a place of business, and you need to collect everything you've earned from all your sources of revenue, including your patients.
Patient billing services are a solution for dental teams seeking to simplify and streamline their collections process while also increasing their patient revenue.
In this article, we're sharing how our patient billing services at DCS hauled in $1,000,000 from patients in just 6 months.
The Patient Billing Problem: Why is dental patient collections such a headache?
"About 74 million Americans have no dental coverage—almost one-quarter, or 23%, of the population. Even those with coverage struggle to afford expensive procedures, especially when faced with an urgent, unplanned dental surgery."
Part of the challenge with collecting from patients are the feelings that come with it: Awkwardness and guilt when you realize that this dental service cost is straining the patient.
It's no secret that dental work isn't cheap, but collecting from patients is how you keep your practice or group running, how you pay your dental team, and how you pay yourself. Patient collections are necessary to sustain your business.
---
Related: Increase your dental patient revenue by understanding what holds it back and what will transform it
---
Patient collections are also challenging because of how much administrative work is involved— especially if you're still mailing paper statements to patients, making follow-up contact by phone, receiving checks by mail, and making bank deposits.
This is time spent performing monotonous tasks that your team could spend focusing on in-office patients, filling the schedule, answering phones, and taking steps to grow your dental practice.
We're not saying patient billing tasks are unimportant—they're essential! They must be performed to get the cash flow you deserve.
We are saying these repetitive tasks can be automated to:
Cut your team's workload in half
Ease the payment process for your patients, and
Create a consistent flow of revenue for your business.
Our Patient Billing Process: How DCS will supercharge your revenue with patient billing services
DCS used to be a dental billing company that offered only insurance claims management services. But we kept hearing the same thing from our customers: Why don't you offer patient billing services?
It was a good question. Patient revenue accounts for half of your overall revenue, insurance claims being the other half. So, we listened and adapted.
We added patient billing services to our roster — and also insurance verification services — and transformed into a full-service revenue cycle management provider, instead of just a dental billing company.
We now offer patient billing services to private practices of all sizes, as well as emerging dental groups, because the need for streamlined patient billing is widespread.
DCS' automated patient billing system promptly sends payment links to your patient's preferred device via email or text. Patients can view account credits and insurance payments, and pay balances online with their chosen form of payment. For increased success, machine learning selects optimal times to retry failed payments.
Our patient billing services will:
Issue digital statements automatically, as soon as the balance is known
Send balance notifications using email and text messages
Follow up automatically with friendly reminders
Accept payment from all major credit cards and wallet apps, on any device
Monitor direct deposits and outstanding balances instantly
---
Dive deeper into how your team can maximize their patient billing results in our Learning Center.
---
Automated billing eliminates the time and cost of issuing paper statements, and also the 3 or more days of postal delivery, so your payments are received sooner.
Now that you have a better understanding of our patient billing services, let's get into how we collected $1,000,000 from dental patients in such a short period of time.
Our Patient Billing Results: DCS collects $1,000,000 from dental patients in just 6 months
Patient-friendly automation helps you collect more revenue sooner, so your team will have more time to provide excellent care to patients in your office — instead of calling, emailing, or sending reminders to patients about their outstanding bill.
With automated patient billing, you'll see the following benefits:
Enhanced patient experience
Increased efficiency for your team
Consistent and increased cash flow
DCS' services nurture the financial growth that creates opportunities to improve your dental practice, and perhaps even open additional locations.
For example: In April 2023, we collected an average of $9,985 per office in patient collections. Those dental businesses saw a return on investment (ROI) of 1,596% on their partnership with DCS. That 4-digit ROI was typical for this 6-month period.
This high return is made possible through convenient payment methods for patients and friendly automatic reminders. And remember, this increase in income comes with a bonus—your team now has more time in their day to dedicate to an outstanding treatment presentation.
When your team has time to clearly communicate payment expectations and options to patients, there will be no lingering questions, concerns, or confusion about their out-of-pocket costs.
Everyone wins with automated patient billing. Your practice gets a boost in revenue, your patients will love how easy it is to pay for their treatment, and you'll have additional income to support your team and elevate your dental business in ways you've only imagined.
A thriving practice with no financial worries isn't an impossible dream, it's a reality that's within your reach.
Now you can dream on this: What would you do with an additional $10,000 next month—or an additional $120,000 next year?
Dominate your patient collections by partnering with experts
Collecting from your patients doesn't have to be a headache. Automated patient billing services will relieve your team of the administrative and emotional burdens that come with patient collections, ensuring you are paid everything you've earned while providing a better overall experience for your patients.
DCS is a full-service revenue cycle management provider. Our patient billing services will:
Implement automated billing solutions to streamline the patient collections process
Offer flexible payment options to cater to diverse patient financial situations
Utilize online payment portals for enhanced compliance and patient convenience
The road to financial freedom and professional growth starts with embracing patient billing services. DCS is your partner in this transformative journey, providing the expertise and tools needed to revolutionize your revenue collection process.
Don't just take our word for it; our satisfied clients are testaments to the incredible results that can be achieved through proactive and efficient revenue collection:
"We LOVE DCS!!!! Tiffany F. is absolutely the easiest, friendliest, knowledgeable, informative and attentive. She makes running my office so much easier and takes a huge load off my shoulders!"

—Danielle Mendolia, Southern Dental Alliance
Ready to embark on the path to financial freedom? Schedule a call with us today to reshape your patient revenue.
Related Posts
Dental billing resources