3 tips to successfully communicate your patient's dental treatment plan presentation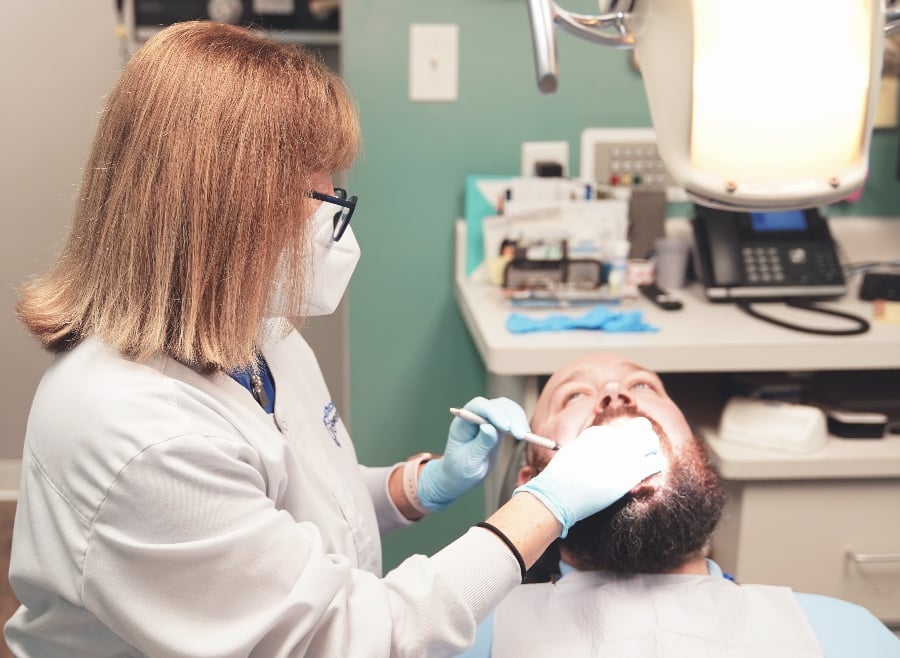 Have you ever struggled to cover the necessary information in your patient's dental treatment plan presentation, so it's easy to accept?
When it comes to meeting with a patient for a dental treatment plan presentation, it can be challenging to convey complex information in a way that is both understandable and effective.
Having RCM services that handle insurance verification will help you with treatment plan presentation, because verification helps you explain how insurance may help cover the cost of care. DCS offers insurance verification services as part of our end-to-end RCM offerings.
Our years of experience have shown us the impact of performing proper insurance verification to gain a clearer estimate of patient responsibility.
When patients don't understand their treatment or how to pay for it, the less able they are to accept your recommendations. Deferred care often results in more extensive and expensive future treatment. When patients misunderstand the plan, it may also be harder to collect their out-of-pocket balance, resulting in less revenue for your practice.
The 3 tips in this article will help you present a clear and concise dental treatment plan presentation to your patients. With these tips, you will empower your patients to see the value of your plan, how to meet their dental health needs, and how they will pay for the care you provide.
1. Take your time explaining why your patient needs this treatment
The key to this type of treatment presentation is making sure that the patient totally understands WHY they need the treatment and the VALUE of getting it done. Be sure to express the consequences of not receiving this treatment, especially if it will lead to more expensive treatment in the future.
For example, if you don't get this $200 composite restoration now, it could lead to a $1,200 crown down the road.
Make sure you are sitting down knee to knee for this presentation and you and your patient don't feel rushed. Answer their questions thoroughly or obtain clarity from the provider if needed.
"If patients feel rushed through the consultation, they may be reluctant to say yes. Provide the quality time you and your patients need to choose the treatment plan you both want." -Dental Economics
Explaining dental insurance and dental treatment can get wordy and complicated. Here are some quick tips to help your patient understand:
Be clear and concise - keep it as simple as you can.

Use visual aids if possible (x-rays, diagrams, etc.)

Provide a print out of their treatment and their costs
One benefit of working with RCM experts is you will have more time to dedicate to patients. If you don't have the time to give patients a thorough treatment presentation, your team may want to look into partnering with RCM services. Your RCM experts ensure that insurance details are ready in your PMS software. A technology-assisted process ensures you have the latest data at your fingertips when talking with patients.
---
Related: Increasing dental case acceptance with outsourced billing: 3 ways
---
2. Be clear that insurance payments are estimates only
Don't get bogged down on insurance details. Instead, focus on the word "estimate."
Basic insurance verification services can give you the information you need to calculate an estimation, but that's all it is — an estimation.
No matter how much information you gather during insurance verification, it will still just be an estimate.
When you use end-to-end RCM services, they verify patient benefits for you, providing the amount of information needed to calculate your patient's out of pocket estimate.
We asked one of our RCM experts at DCS how they have approached presenting treatment in the past.
He explained, "When talking about the specific treatment the patient needs, I use the word USUALLY a lot. You need a crown on tooth number 30. Our fee is $1,200 and your plan usually covers this at 50% which means they usually pay around $600.
We collect a down payment of $600 and usually that covers your portion, but keep an eye out for a statement (or text/email) in case insurance pays less or more than they usually do."
You can present a ballpark number to patients to help them prepare, but you should always start with the full cost of the treatment so that they know they are ultimately responsible, should their insurance not cover it.
---
Related: How to handle a dental patient who has a problem with their bill
---
Remind them of your financial policy, and develop your financial agreement that details their payment and financing options you offer. Don't judge their pocketbook and let them determine their best payment method.
3. Remind patients that benefits are not determined until the claim is processed
Dental insurance payers will never be able to give you more than an estimate ahead of time. You'll know the patient's costs when the insurance company issues payment with an explanation of benefits (EOB). Any estimates beforehand may be inaccurate. This is why we don't recommend spending your valuable time on predeterminations instead of insurance verification.
Predeterminations are time-consuming.

This time could be spent on other valuable administrative duties such as patient care, patient scheduling, etc.

Predeterminations are not always accurate.

Like we said, everything is just an estimate until the claim has been processed. And predeterminations don't prevent denials when you finally submit the actual claim.

Predeterminations can frustrate your patients when they don't match real costs.

Don't let your patients get stuck on a number. If your patients get an unexpected bill that because their predetermination was inaccurate, they could leave your dental practice
Unlike predeterminations, insurance verification provides you with the information you need to present treatment to patients. Verification gives you a more comprehensive view of benefits. DCS insurance verification services deliver fast and easy technology-assisted verification.
With the latest data on file, you'll send more clean claims that pay sooner, reduce denials, and increase patient collections.
This insurance verification also allows for you to present a basic treatment plan for your patients, communicating a truer estimate to them.
After you finish your presentation, ask your patients, "What questions may I answer for you and when would you like to schedule?"
If they do not schedule, ask them if you may follow up in two weeks if you do not hear from them. Get the best date, time and method to contact them and put it in your task list.
Ready to submit clean claims using insurance verification services?
Presenting a dental treatment plan to a patient can be a daunting task, but by following these three simple rules of thumb, and using insurance verification services, you can deliver a clear, concise, and effective presentation.
By addressing your patients' concerns, providing written information, and encouraging questions, you can build trust and foster positive relationships with your patients. And when you are clear and transparent about patient financial responsibility before their treatment, you will have less trouble collecting from them afterward.
DCS Insurance Verification services can help you provide basic information to your patients about their insurance coverage, focusing on the estimate of their out-of-pocket cost. To learn more, schedule a call with us.
Insurance verification is part of a full-service RCM support available at DCS.
Related Posts
Dental billing resources