5 tasks dental RCM services entrust to your team: What RCM doesn't do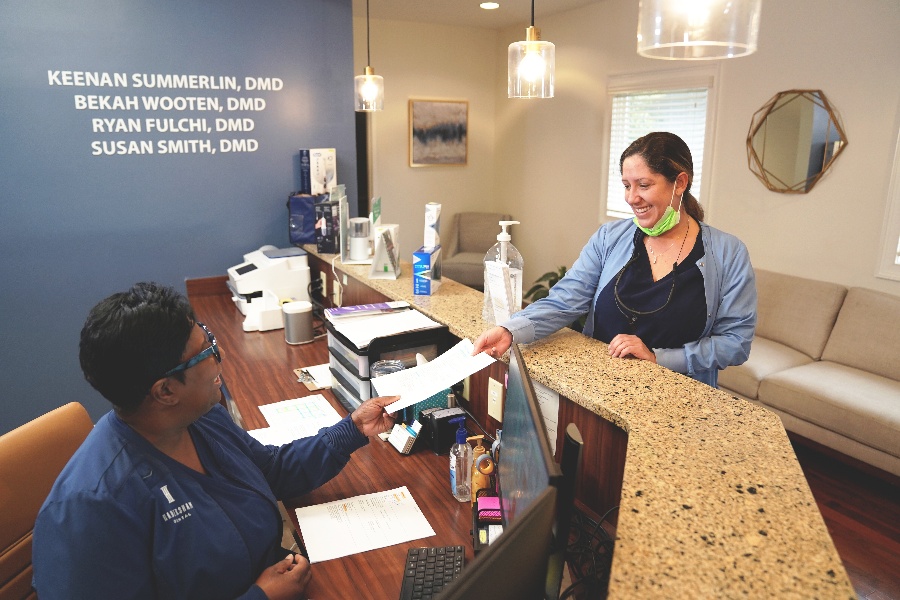 Revenue cycle management (RCM) maximizes revenue by managing your business systems at every stage of patient services, from credentialing providers and verifying patient insurance coverage to insurance collections, patient billing, and overseeing accounts receivable.
"When you have a finely tuned RCM process, many of the hiccups that can derail your practice and your finances can be straightened out." —Dental Products Report
RCM is made up of every process that directly affects your cash flow. When you partner with RCM services, experts handle those processes for you. And as with any third-party vendor, it's important for the vendor to clarify the roles of their staff and your in-house staff.
It's a common misconception that partnering with RCM services means surrendering every feature of your front desk. This isn't true when you work with DCS.
Our RCM services don't replace your in-house team or run your dental office. On the contrary, with the support of RCM services, your in-house team will have more freedom to run your office without being bogged down by administrative tasks.
We're covering 5 tasks that RCM services entrust to your team because they are relationship-building opportunities that benefit your team, your patient, and your practice. Let's dive in.
Task #1. Your team collects and records patient information
When it comes to collecting and recording patient information, your dental staff takes the lead.
Accurate patient data is not only critical for clinical decisions, it also forms the bedrock of financial transactions for treatment. It's the starting point for a streamlined revenue cycle.
Ideally, your team collects the patient's information during the initial scheduling phone call, before their day of treatment. It's essential that every item of information is correct, as even small errors such as a typo or swapped numbers can cause delays throughout your revenue cycle.
---
Related: Dental insurance verification checklist for dental teams
---
With the patient information your team collects and records, RCM experts will have the full picture of each patient's coverage for insurance verification and claim submission, ensuring you have what you need to create a clean insurance claim — which we'll circle back to later in this article.
Your patients trust your team with their information, and your team remains the point of contact for your patients.
Task #2. Your team presents the treatment plan to your patients
As we mentioned in Task #1, your patients trust you and your team with their information and their treatment.
Your treatment plan presentation is where your treatment coordinator creates a connection with patients that our RCM experts can't. The treatment plan presentation requires a personal touch that only your dental professionals can provide.
Treatment coordinators diagnose, communicate, and ensure patients understand their treatment. Clear communication fosters patient trust and engagement, both of which directly impact treatment acceptance rates and, ultimately, your practice's revenue.
Another reason why RCM experts cannot replace your in-house team!
This presentation is an opportunity for your team to offer treatment options, if available, and also payment options. The treatment plan presentation is crucial for ensuring your patient understands their out-of-pocket cost expectation, and also for building a strong relationship with them.
These transparent conversations about the financials associated with their treatment can be very vulnerable for some patients. Handling this dialogue with clear communication and genuine compassion is how your team builds trusting patient relationships that last.
You want your patients to develop these connections with your team, not your RCM experts.
Task #3. Your team creates insurance claims
One of the greatest benefits to working with RCM experts is the increase in claim reimbursement — you'll get more revenue more quickly. RCM experts know the ins and outs of insurance companies and their submission processes. They're also wizards at winning claim appeals.
But the professionals on your team are the experts on your patients. That's why it's your team's role to create insurance claims with the information they've gathered and recorded while communicating with your patients.
Our RCM experts then review the claim your team has created, submit it to the insurance company, and see it through until payment is received. They will:
Fix incomplete and incorrect claims before submission to minimize claim denials
Follow up on delayed claims doggedly until the payment is sent
Navigate the maze of claim appeals processes, if needed
…and much more listed in the "Masterful Efficiency" section below
---
Related: 4 things your dental insurance claim needs for reimbursement
---
This is another reason to utilize full-service RCM services: When your team utilizes both insurance verification services and claims management services, the two services will work together to ensure your patient's insurance coverage is correct.
This will increase your claim acceptance, therefore skyrocketing your revenue with cash flow you can count on.
Task #4. Your team handles scheduling

Efficient scheduling is a dynamic balance that your team expertly manages. Patient appointments, availability, and coordination – they all fall under their purview.
Like we mentioned in Task #1, scheduling patients is a chance to provide a personal touch that only your team can give. They're familiar with your patient's previous treatment, as well as their work and childcare schedule — they can likely offer multiple days and times that would work for the patient to come in for treatment.
With RCM experts handling many of the monotonous tasks like insurance verification and claims follow-up, your team has time to strategically fill the schedule by contacting:
Patients with unscheduled treatment (patients who know they need treatment, but haven't scheduled it yet)
Patients whose bi-annual visit is coming up, and
Patients who need follow-up appointments about previous treatments
A full patient schedule equals a profitable dental practice.
Task #5. Your team maintains relationships with your patients
You've likely noticed a theme: No one can connect with your patients better than you and your team — and no one else should.
That's the crux of why RCM services can never replace your in-house team.
RCM experts are there to keep revenue flowing into your business — not require your patients to talk to a stranger about their schedule, their coverage, their treatment, or their bill.
Building and nurturing patient-provider relationships is an art that your dental staff excels at. They cultivate trust and foster rapport to ensure patient loyalty. Their connections are vital for the repeat business and referrals that sustain a thriving practice.
It might feel small, but the kindness and care your team puts into creating a smooth and easy dental experience goes a long way to increasing your patients' comfort in an unfamiliar — and sometimes uncomfortable — situation. Especially when many patients would rather be anywhere but the dentist's chair!
Your patients are why you have a dental business. That's why the connections your team creates are so valuable to both your patients and your practice.
With RCM services, your team does this:
To recap, your team:
Collects and records patient information
Presents the treatment plan to your patient
Creates insurance claims
Handles scheduling
Maintains relationships with your patients
With RCM services, our team does this:
Your experts at DCS:
Handle insurance verification

Get a detailed breakdown of patient's coverage before the appointment
Update your patient records 3 business days before treatment
Verify patient records match insurance records
Improve accuracy and speed with a technology-assisted process

Handle insurance billing

Review claims for accuracy and completion
Review and correct coding for accuracy
Review and include necessary attachments for submission
Send secondary claims and electronic attachments
Submit claims to clearinghouse: Review and resolve errors
Appeal denied insurance claims

Handle patient billing:

Calculate accurate balances automatically as soon as insurance payments are posted.
Instantly send links to electronic statements to patients' preferred devices
Send friendly, automatic payment reminders to patients without manual processing
Receive online payments automatically
Monitor direct deposits and outstanding balances
DCS' revenue cycle management services are designed to complement and support the efforts of dental staff — not replace them. While your team focuses on patient care and ensuring the right information is collected from patients, we focus on collecting the money you've earned and are owed.
Empower your team with their new roles and responsibilities by partnering with RCM experts. Schedule a free consultation with us today.
Related Posts
Dental billing resources