3 updates to modernize your dental office and improve revenue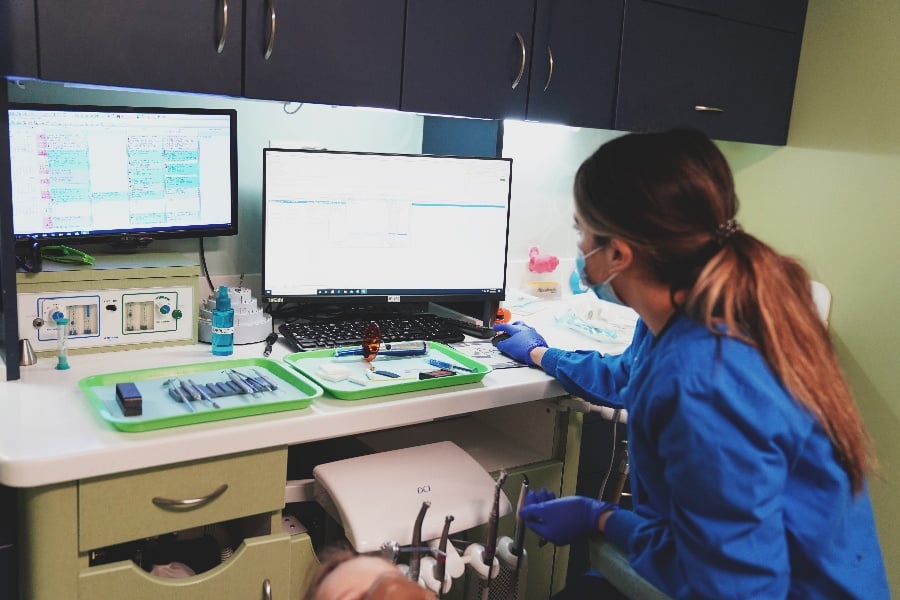 How do you modernize a dental office? When it comes to running your dental practice, keeping pace with change is a big challenge. Opportunities to upgrade are everywhere, from treatment technology to office systems to management practices. As a dental practice leader, deciding what to update can be one of the hardest parts of running a business.
And we get it, sometimes it can be challenging to know what exactly you should update to remain a modern, competitive, and profitable dental practice.
In 10 years of working with dental offices, we know what it's like to plan ahead to keep adding value to our customers. By following the changes in insurance billing we know the crucial elements of the practice that need to stay updated to remain profitable.
Certain dental office system updates are essential to a well-run practice. Without them, the practice will lose out on productivity and revenue.
In this article, you will learn 3 things your dental team should keep updated at the practice, and why. From your practice management software to your computer systems, to your dental billing workflows - keeping these systems up to date enables you to run an efficient dental practice that will in turn lead to a stronger stream of revenue.
1. Your dental practice management software
Your dental practice management software has a crucial role in how your office runs. It enables you to handle your scheduling, patient data and billing, and your insurance billing.
Each dental practice is different, so you must have practice management software that fits the needs of your dental practice. For instance, the size of your practice may impact what type of software suits you best. Are you using time-saving features? Is reliance on paper no longer convenient?
The types of features you want automated, and whether or not you outsource your billing could be a factor in choosing a software system.
Not to mention, as software ages, if security updates are not kept up with then compliance with HIPAA could come into question.
It's important that a minimum once a year, you evaluate your software.
When was the last time you evaluated your practice management software?
Does your dental practice management software run well? Is it at the price point you want? Does it offer all of the services you need? Are you able to complete your clinical notes without a pen and paper? Is there another software that could automate a part of your processes that your current software does not?
These are the types of questions you should ask yourself every now and then. If the answer is no to any of these, take some time to explore other options. This could mean asking neighboring dentists what software they use and what they like.
Read reviews, do some research, and ask yourself if your practice management software is optimizing your dental practice as a whole. If the answer is anything other than yes - it's time for an update.
Browse through this list of our top dental practice management software in our Learning Center.
2. Your computer systems
You'd be surprised how many dental practices we see that rarely update their computer systems.
For HIPAA compliance you must use network passwords that are updated monthly. To protect your Patient Health Information (PHI) and your data, the doctors and team members should have individual usernames and passwords for your practice management software.
Some dental practices go years without updating their computer software and systems. When you do this - your computer tends to run slower. These lags lead to less productivity and more frustration for the dental team.
How fast is your WiFi? Internet speed over 10 MBPS is ideal for offices with 10-15 devices connected to the WiFi network.
This is also ideal for frequent data backups and cloud computing. Go to Google's Internet Speed Test now to learn how fast your internet is.
Speaking of this - is your computer system cloud-based or server-based?
Are you cloud-based or server-based?
One is technically not better than the other, but weighing the pros and cons of being either cloud-based or server-based can be helpful when deciding how to update your dental practice's systems.
Whether to use a cloud-based system or on-premises software is an important decision. A cloud-based system gives you access to all of your information through a web-based platform. This makes it easy to work or get support from anywhere.
A server-based system keeps all your data running on a server in your office. You have an in-house computer network dedicated to managing all of your practice information.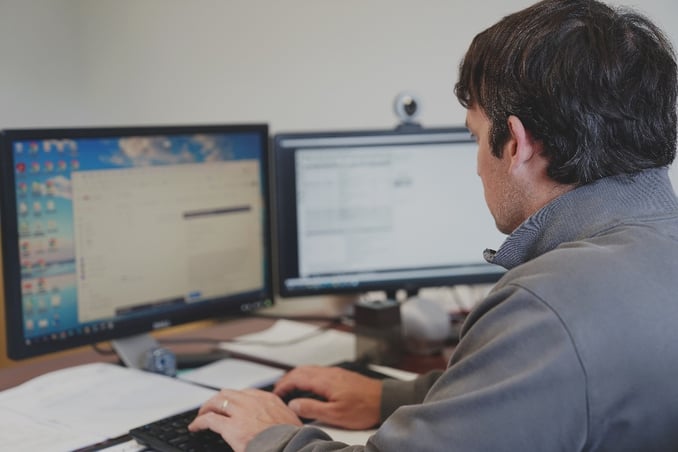 A local server-based system most often requires a dedicated server that needs updates and maintenance support from time to time. It is important to have a trustworthy IT administrator to take care of this. Many practice administrators use managed IT services that perform monthly updates.
This service should provide a modern cloud backup system, antivirus software updates, and monitoring, intrusion monitoring with hardware and software firewall systems in place to protect your practice.
As the world of technology evolves, more and more businesses (including dental offices) are moving to cloud-based software. This is something to consider when regularly updating your systems.
3. Your dental billing processes
This is a big one - your billing processes – especially their efficiency – have the greatest impact on your bottom line.
Your patient payments plus payments from your insurance claims equal the entire stream of revenue for most dentists. The processes in place to collect income from these sources need to be clean and accurate if you want a healthy practice.
You need the right team members (or outsourced services) in place to collect from insurance and patient accounts quickly and easily. When there are constant missteps that lead to missed patient payments or insurance claim denials - accounts receivable grow, re-work increases, and you have the headaches of trying to reduce your overhead and bring in the money that you have earned.
When evaluating your dental billing processes, ask yourself:
What strategies in these processes are working and what's not working?
Do I have the right experts in place to handle patient and insurance billing?
Am I seeing the results I want to see?
If the answer to any of these were no, (are you noticing a pattern here?) it's time for an update.
Your dental insurance claims process
The dental insurance billing process is complicated, and figuring out if you have a streamlined process can be tricky.
To keep it simple, you can measure your insurance collections and view your insurance aging report. These numbers will tell you how effective your insurance claims process is.
Do you have one person accountable for seeing claims through from start to finish? Is someone submitting claims every single day? Are insurance payments being posted every day? Are you seeing constant claim denials on your aging report?
These are the parts of the insurance claims process that need to be visited to decide if anything needs updating.
Whether this is an overhead update or an educational opportunity, your insurance claims are a huge chunk of your revenue that provides a unique challenge: communicating with an entity that does not want to pay you. So the person handling this part of your billing needs to be a strategic problem solver that knows how to get claims submitted accurately and also appeal claims efficiently.
Your dental patient billing process
When it comes to patient billing, your process needs to be clean not just because of revenue, but also because you are dealing with people, not insurance companies.
Your insurance verification process should be optimized from that first call to scheduling an appointment. You should have a team member in place who collects all of the patient's insurance information and verifies that their benefits are active.
Then, there's calculating their out-of-pocket expenses. This can be sensitive, and having a clean process for this means your patient not only pays their out-of-pocket, but they understand why they are and have no objections.
If your team struggles with patient billing, it can cause patients to drop off and stop using your dental services.
Learn the 5 signs you have a great dental billing process in our Learning Center.
Ready to learn more strategies to be a profitable dental practice?
Even though you provide healthcare services for patients, you as the dentist or business owner are still that - a business owner! You're wise to ask: How can I improve my dental practice?
You have to think of your practice as a revenue generator that needs to be working strategically to keep up with the ever-changing industry of dentistry and technology.
Regularly visiting your software performance, computer systems, and processes can help you know what needs to change to optimize your business to bring in more money.
Dental ClaimSupport is a dental billing company that can help specifically optimize the billing processes a financially healthy dental practice needs to have in place.
To learn more revenue strategies, read our article, "4 things you can do to raise your practice income."
Related Posts
Dental billing resources