How to avoid dental office burnout in your practice: 3 tips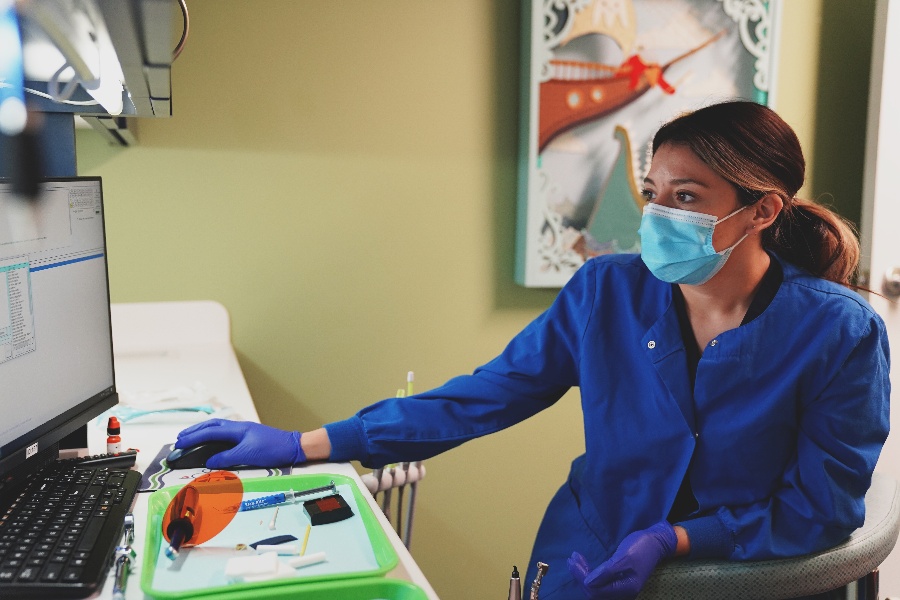 As a dentist or leader in your practice, you want to help your team meet the challenges you face every day. Professional burnout in healthcare is a real problem, especially after covid. You want to make sure that dental office burnout isn't taking a toll on the mental and physical health of the people you're working with.
So if you do sense that stress, frustration, or overwork is an issue, you're thinking, "how do I avoid dental office burnout?"
It's important as a dentist that you have strategies to avoid dental assistant burnout as well as among your front employees. Their well-being and your own success depend on it.
At Dental ClaimSupport, we work with dental teams to deliver fast, accurate insurance payments. We've seen too many dental professionals struggle for years with insurance headaches and low income without effective strategies to get rid of them. Let's fix that.
In this article, you will walk away with three tips to help you prevent and deal with burnout in your practice. With these tips, you can focus on creating an outstanding work environment for your employees. In this workspace, they can feel valued, appreciated, and empowered to have their best impact.
This will not only make your team happier, but it will also make your dental practice more successful.
First thing's first: Figure out how much workplace burnout is a factor in your dental practice.
Are you dealing with workplace burnout at your dental practice?
In the 2021 Mind the Workplace report, created by the non-profit organization Mental Health America, surveys showed that 5,000 employees across 17 industries in the United States struggled with mental health-related issues in the workplace, including burnout
A telltale sign of employee burnout is when a team member feels indifferent about their role, and it begins to show in their performance.
Burnout can be caused by a few factors. Employees may feel that their workload has become unmanageable, their work-life balance is off, they don't feel fairly compensated, or there's something else you need to identify!
Financial stress is a big factor. If your current billing system leaves you with mountains of claims to track, re-work, and denials to overturn, this situation can put stress on the whole team. Insurance companies are making collecting payments much harder than ever before.
When you can't collect on claims promptly, it's hard to bill patients correctly. This is how claims problems drive cash flow problems that can feel overwhelming.
To gauge where your dental team members are at, ask if they have the support they need to be successful. You can do this during performance reviews.
Every quarter or so, have meetings with each of your employees. Not only should you be evaluating their performance, but have a conversation with them. Ask how they are feeling about their role, their workload, their fellow employees, and just their general feelings about the work they do.
Taking the time to have honest conversations with your employees can not only make them feel valued but can also give you a good idea about tasks that need support.
Now that you know how to gauge dental burnout, let's talk about how to prevent it.
1. Give your employees purpose and autonomy over their roles
Every dental practice is different, but ask yourself: Are you a micromanager? When you offer criticism, is it constructive?
A factor leading to burnout is uncertainty about one's role. If you're constantly micromanaging or criticizing your employees, they might feel like they don't really belong in their role.
Give your team members the chance to carve out their own purpose and role. This means letting them figure out their own processes for handling patients and scheduling. Sure, there might be a few parts you need them to include in their processes, but let them find their way.
Your team's purpose might also look like creating an amazing patient experience. If this is the mission of your dental practice, the dental team will know what you expect from them.
Also - offering flexibility is a helpful way to prevent burnout. Since COVID-19, workers are seeing more and more that working from home is a viable option. This also means that flexibility has become a non-negotiable among today's workers. Obviously, your front desk team has to be in the office. But having a system in place that offers flexibility for your team members adds a lot of value for them.
Knowing that you care about their personal lives to some extent creates a sense of trust between you and your employees. And when you care about them, it makes team members want to work harder for you.
2. Make sure their workload is reasonable - ask them how outsourcing would help!
As a dentist who isn't involved in the details of scheduling, billing, and running the office, you might not realize how much work each team member is taking on.
This one is easy - ask them about it! This is where those performance reviews we mentioned can come in handy. It's not uncommon for a leader or employer to ask if the workload employees are taking on is appropriate.
Your financial reports can also shed light on the impact of burnout. Is the team struggling to keep up to collect what you've earned? If you see a growing insurance accounts receivables (A/R), this will impact patient billing too.
Knowing you're behind on collecting payment for your work is stressful for anyone. Doctors in other medical fields have embraced outsourcing their insurance billing as a best practice to manage their revenue cycle. More dentists see billing services as the preferred option - the new normal for insurance claims processing. Ask your team about outsourcing as a strategy to help them do their best work.
Insurance billing, specifically, can feel like a constant battle. If whoever is handling your insurance billing is also trying to handle other office tasks, we can almost guarantee they're overwhelmed.
From keeping up with constantly changing insurance regulations to spending hours working the aging report and posting payments, insurance billing itself is a full-time job. If you have someone handling this AND anything else, it could be time to check if your systems to collect proper payment are smooth and profitable.
3. Cultivate a healthy work environment and sense of community
Creating a healthy work environment at your dental practice means a few things. And some of these might sound obvious, or even silly because of how simple they are. But the way you and your employees speak to one another and handle problems - makes or breaks your healthy work environment.
Here are a few quick tips for cultivating a healthy work environment at your dental office:
Always remain kind and professional - bad attitudes are contagious. And they can create negative energy in your office that even patients can pick up on. This doesn't mean you have to be best friends with your employees, but don't let personal issues come into your work relationships.
Try to appreciate one another when you can - Everyone's role depends on one another. A dental team is just that: a team! So be sure to say please and thank you when it's appropriate. This may go longer than you think.
Communicate problems you have constructively and kindly - Problems are always going to come up. That's the nature of dental, and life in general. When they do, be sure to communicate any problem or criticism politely and constructively. This means providing a good reason why something might be a problem and finding the solution as a team.
Creating a sense of community can be a great way to bond your dental team. This means during your morning huddle share a positive quote of the day. You can also share what each person did that weekend in a weekly meeting.
Consider holding team-building events twice a year. Plus, keeping up with work anniversaries and birthdays can be a great way to create a more bonded team as well. Many offices will attend CE's or take online CE's together as a group, then discuss what they have learned and want to implement during a dinner or lunch.
Cultivating this awesome work environment and community can make your team members feel valued and excited to go to work, and help create lasting friendships among your employees that will make working together all the more pleasant.
Ready to have a happy and productive dental administrative team?
When your team isn't burned out on their dental job, they will not only be happier but also will perform better. It's your job as a leader to create a great work environment for your employees through workload evaluation, performance reviews, and providing work-life balance.
When you do this successfully, you will see your dental practice thrive because of its happy employees. Patients will notice too!
When it comes to insurance claims work, Dental ClaimSupport is a great tool for easing the workload of your dental team. It can help your entire administrative team focus on what's in front of them - the patients.
To learn the signs you have a productive and profitable dental administrative team, visit our Learning Center.
Related Posts
Dental billing resources