Top 5 revenue cycle management problems dental teams and groups face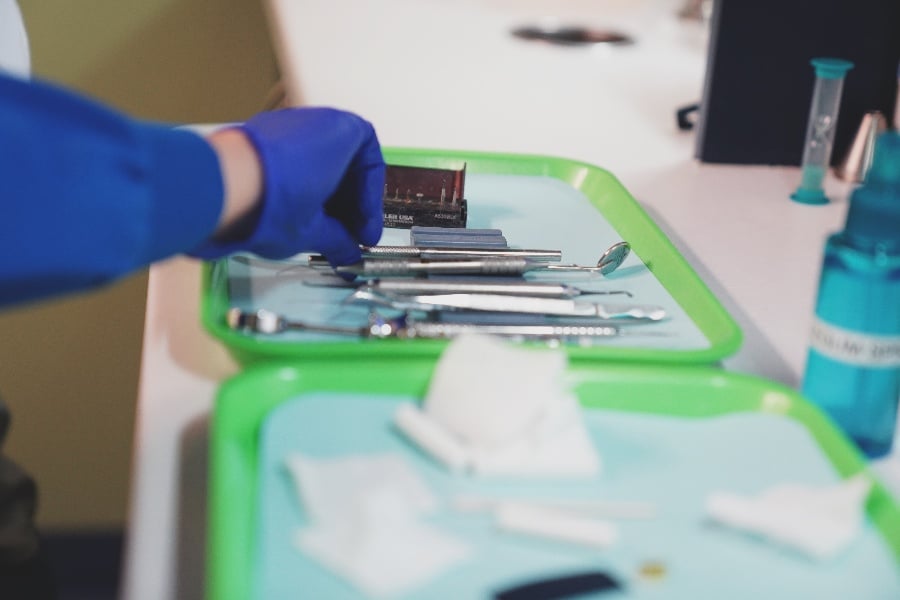 As your dental practice or group grows, you're bound to run into certain revenue cycle management problems.
Effective revenue cycle management (RCM) is like a Swiss army knife. Well-run RCM systems help you quickly cut through clogs in your cash flow, solving multiple issues at once.
If unaddressed, these 5 specific revenue cycle management problems will lead to lost revenue.
To address the issues, you first need to understand what effective revenue cycle management does: RCM reduces the delay between the time you provide patient services, and when you receive payment, to maximize income.
As our experts at DCS speak with dentists, their team members, and DSO leaders, these common RCM pain points emerge:
This article will dive deeper into what these revenue cycle management problems are, and how an expert RCM system helps you conquer them. After all, DCS is here to support your growth with expert RCM services.
Problem #1: Inaccurate or incomplete patient information
When patient information is not accurate or complete, it causes significant disruptions in the RCM process, resulting in delayed or lost revenue.
This is because inaccurate patient information, specifically on insurance claims, leads to claim denials.
Errors often occur in patient information because there are so many pieces of data you collect from new patients when you enter their details into your PMS.
Inaccurate patient information could be something as simple as:
A misspelled name

Wrong date of birth

Incorrect insurance information
Delays in payment from denied insurance claims result in a longer payment cycle, which negatively impact cash flow and profitability.
Suggestions for avoiding inaccurate patient information:
There are a few things your team should do to avoid errors in patient information.
Take your time entering dental patient information

Double-check your work

As you input patient data, consider whether you're feeling rushed or pressed. If you do, you might need less on your plate.
Revenue cycle management (RCM) services will lessen administrative burden and let you focus on accurately entering patient data into your system, ensuring they have a smoother billing experience. This way, your team won't feel rushed or overwhelmed while working, leading to fewer errors in their work.
Problem #2: Inefficient workflows
You've heard the saying, time is money. Inefficient workflows waste valuable time, so you lose money due to re-work and higher overhead.
A quick way to spot inefficient workflows is to ask: what manual tasks are in place now? What would they look like with expert support and automation?
Common manual tasks that are good spots for expert support include:
Patient scheduling

Insurance verification

Patient billing

Payment posting
Inefficient processes not only lead to a decrease in productivity, but also negatively impact your patient's experience.
For example, when you don't strategically schedule patients with the dentist's schedule in mind, it could lead to gaps in the schedule. Scheduling inefficiencies are a widespread issue among dental professionals.
Fortunately, this is one of the simpler issues to fix. By removing other inefficiencies covered next, you recover valuable time to improve scheduling.
Suggestions for other inefficient workflows:
Many teams fall prey to inefficient insurance verification systems. Manually checking each patient's insurance coverage eats up hours of valuable time.
But, it must be done consistently, accurately, and on time before the appointment. Accuracy matters. Clean insurance data is so important, our RCM framework features technology-assisted insurance verification (more on that below).
Does your patient billing process involve calling patients one by one about their bills? Mailing paper statements? Checking overdue accounts only when you get a chance to run reports? Patient billing typically incorporates many tasks that deliver (almost) unbelievable returns on investment when automated.
True story: In January 2023, DCS customers utilizing our patient billing service averaged a 1,477% in return on investment. That's the power of expert support with automation.
Payment posting is another time-consuming process that requires accuracy and expert knowledge to do properly. Mistakes are common because adjustments require expert knowledge of coordination of benefits, proper fee-schedule setup, and other hard-to-find skills. Faulty procedures are especially costly when balances are routinely written-off rather than money collected.
RCM experts at DCS have training in procedures to check for incorrect write-offs.
RCM services add value because the approach removes inefficiencies across all revenue-related activities. This requires completely different skills and technologies than those needed to serve dental patients.
You might need to look into RCM services to streamline your operations so you're properly paid for your patient care.
Problem #3: Inadequate insurance verification
When insurance verification is not performed accurately or efficiently, it leads to a domino effect of problems. It's in many ways, the first step of your revenue cycle. And each step of your revenue cycle depends on the one before it.
This biggest problem inaccurate insurance verification causes is claim denials, which over time, if continuous, is costly.
If the practice does not verify the patient's insurance coverage correctly, it leads to incorrect billing or coding, resulting in claim denials from the insurance company. This leads to:
Delayed payments

Additional administrative work

Lost revenue
Dental teams struggle with insurance verification because of how time-consuming it is, but because it's also tedious data collection.
Suggestions for improving insurance verification processes:
The best way to improve your insurance verification process is to use insurance verification services.
At DCS, our IV services update your patient records three business days before the patient's appointment and provides a detailed breakdown for every patient on your schedule
---
Related: Partnering with dental insurance verification services: 5 benefits you'll see at your dental group or practice
---
By letting experts handle your insurance verification, you'll receive accurate patient information fast. This will ensure a smoother claim submission process, leading to higher revenue.
Problem #4: Low insurance claims collections
Insurance claims management is only becoming more challenging for dental teams. And it's not their fault. Insurance companies have complicated the process, with ever-changing reasons to issue denials. Complying with the terms and conditions of payer plans, plus HIPAA, OSHA, and state regulations makes it more and more difficult to submit clean claims for reimbursement.
"One of the most common ways insurance companies ensure that their profits soar is to collect monthly premiums from their members (our patients), then deny as many claims as possible by referring to the literature in a patient's contract, specifically the exclusions, limitations, or frequency provisions.

Exercising their right to deny payment of claims based on this literature ultimately results in decreased payouts and increased profits for the insurance company."
Managing claim denials result in additional costs for the practice, as you'll need to appeal each denial, leading to more administrative work and lost revenue.
Managing insurance A/R also means keeping up with best practices and strategies for submission, appeals and working the insurance aging report.
For example, if your team hasn't had time in weeks to work through the insurance aging report, you're likely seeing tens of thousands of dollars in revenue that you haven't been paid. It's time for a solution.
Suggestions for improving claims management processes:
Because insurance rules and regulations for claims submissions and appeals are so complicated, we recommend hiring RCM experts to handle your insurance claims process.
When you work with DCS, for example, our RCM experts will:
Submit insurance claims

Post all insurance checks and EFTs

Work and analyze AR — insurance aging reports

Take care of proper adjustments
Our expert team increases your insurance collections and reduces your AR percentage while you focus on creating a better patient experience.
---
Related: Top 10 benefits to outsourcing dental RCM services
---
Problem #5: Ineffective patient collections
Some dental teams don't realize how much their patient AR impacts their overall stream of revenue.
If patients don't pay their bills on time, it leads to cash flow issues that could even affect your ability to make payroll. And if patients don't pay their bills at all, it results in additional administrative work, as the practice may need to take legal action to collect the debt.
Patient collections get messy if you don't have a streamlined patient billing system. It will even cost you your patient goodwill.
Suggestions for improving patient collections processes:
There are a few things you should do to collect more efficiently from patients.
Develop and maintain your practice financial policy, including financial options.

Make sure to

effectively present treatment to patients

,

explaining their coverage, the necessity of their treatment, and their out-of-pocket estimate

Emphasize the word "estimate"— they are ultimately responsible for their full fee if insurance does not cover it.

Partner with an RCM vendor to automate your patient billing process
---
Related: 3 reasons to automate your patient billing services ASAP
---
When you partner with DCS to utilize our patient billing services, our RCM experts will:
Issue statements automatically, and providing easy payment options and friendly reminders to patients

Minimize costs and time vs. paper statements

Monitor direct deposits and outstanding balances instantly and automatically
This will not only help your practice collect more money, it will make your patient's billing experience smoother, improving their overall experience at your practice.
Take the next steps to optimize your revenue cycle management
Proper revenue cycle management is critical for the financial stability and success of dental practices and dental groups.
We've explored five common revenue cycle management problems that practices and groups face, including inaccurate or incomplete patient information, inefficient scheduling, inadequate insurance verification, poor claims management, and ineffective patient collections.
Many of the issues mentioned in this article are solved by using end-to-end revenue cycle management services.
DCS is a full-service RCM provider that will empower you to put patients first by providing easy revenue collection.
To learn more about our RCM services, schedule a call.
Related Posts
Dental billing resources