5 dental insurance billing tips for success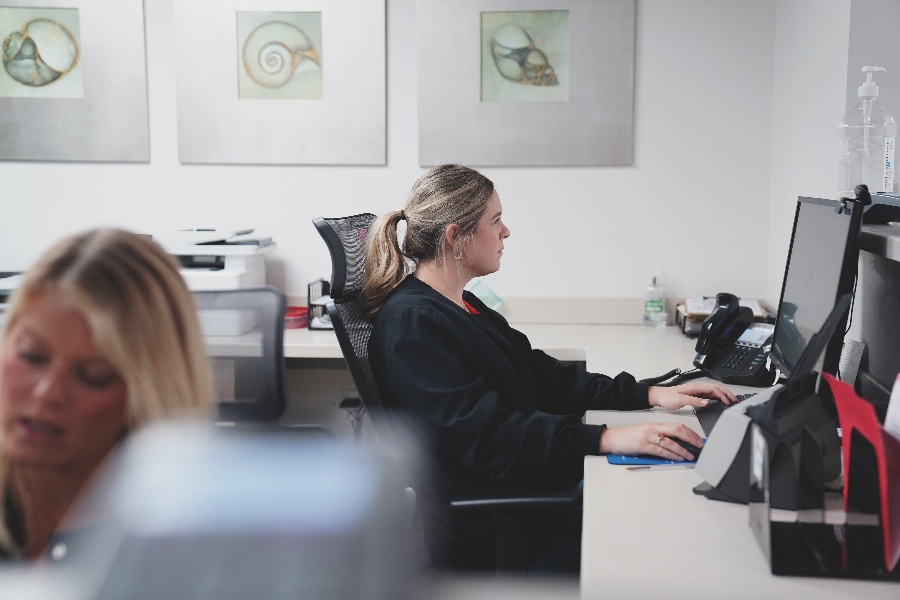 Dental insurance billing tips can help clarify the complicated nature of insurance. If you're trying to improve your current dental insurance billing process, it can be hard to know where to start. There are many moving parts, and you just want a financially healthy dental practice.
Dental ClaimSupport is a dental billing friend for teams who are looking to deliver an excellent dental experience but are bogged down by insurance claims work. Our experts help create a worry-free claims process so that you can focus on your patients. Through 10 years of claims support, we've seen which parts of the process teams struggle with the most.
This article will take you through 5 dental insurance billing tips that will help you cultivate a healthy, smooth billing process. These tips will also help your dental practice collect what you're owed from dental insurance claims promptly. With cash flow you can count on, you're sure to find professional and financial success.
Let's dive into 5 dental insurance billing tips for success.
1. Discuss the patient's dental insurance benefits before their procedure
When the patient calls to make their appointment, make sure to gather all of their insurance information over the phone. If they're an existing patient, confirm that their insurance hasn't changed since their last visit.
Once you're off the phone, verify their insurance benefits. If it's a regular, routine cleaning and their insurance looks up-to-date and active, the patient's appointment is good to go.
However, if it's anything other than a cleaning, and their insurance might not cover the entire thing, determine their out-of-pocket estimate while you're verifying their benefits. Patients oftentimes don't understand their insurance policies. It falls to you, the healthcare provider, to explain how their dental care is going to be covered.
Inform your dental patient of their coverage before you perform their treatment
You may start by asking them what their understanding of their insurance coverage is. If they say "it covers 100% of everything I get done," then you know you have to take your time to educate them on their estimated insurance benefits.
It is always best to "inform before you perform" so there are NO surprises when you request the payment. Many successful practices will have the patient sign the treatment plan that also details the full fee, estimated insurance, and the patient's estimated amount due at the time of service.
The treatment plan may also include the payment options choices, informed consent to treatment, and signature of the patient, parent, or legal guardian. The documentation is scanned into the software and the original is given to the patient.
If their treatment is something more costly, like a root canal, and they're expecting their insurance to cover the majority of the procedure and you're noticing that it won't - explain this to them. That way when they do pay their bill, they aren't shocked by the amount.
If their insurance benefits have been maxed out for the year, inform the doctor and inquire if this can wait until that benefit year renews. If the procedure may be delayed a few months, then try to schedule their appointment for after the new year if possible. Talk it through with your patient and the doctor, and see what options are available.
Keep in mind that they may have some savings if you are an in-network provider despite using their insurance maximum. For patients who are unable to delay treatment until the next benefit year, you may want to review the payment options that your practice provides such as credit cards, CarecreditⓇ, monthly auto-debits, etc.
Even when they sign-in on the day of their treatment, make sure their insurance policy hasn't changed while also informing them of your office's fees and financial policy. Keeping patient billing moving along smoothly starts with insurance education for your patient. And it also helps keep your insurance billing process smooth as well.
2. Streamline your dental insurance claims submission process
For dental insurance billing success, you need a smooth process for claims submission.
Who is handling your insurance claims? Is it a task that is passed off to whoever happens to have the time? Or do you have a designated insurance billing coordinator?
Having one person accountable for seeing each claim through from creation to completion (paid), is key for efficient insurance claim income. The person handling your claims should be creating the claim within 24 hours of the completed treatment. You'll then batch your claim, and send it through your clearinghouse.
The sooner the claim is ready and submitted to the insurance company, the sooner you will get paid.
Make sure all of the providers have completed their clinical notes, supportive documentation, x-rays, and images and they are all saved in the appropriate area of the patient chart in your software.
Remind your clinical team that any replacement of prior dental treatment must be notated in the clinical notes. This information must be submitted to the insurance along with the date of the previous placement. If you are replacing a missing tooth, please ask the patient when the tooth was extracted as you will need this information for claim filing.
3. Regularly work through your insurance aging report
Let's say your claim isn't paid after the first submission. It is automatically moved to your list of unpaid insurance claims: the insurance aging report or outstanding claims by the company depending on your software.
The insurance aging report can be easily neglected. Working on it is tedious, and it can feel like a second-rate task. But it's not! It's crucial - that list of unpaid claims is a list of money that you're owed!
Our experts recommend working on the insurance aging report weekly, at a minimum. If your aging report is pretty lengthy, it might need to be more than that until you've got it cleaned up enough that working on it weekly is enough.
This means someone goes line-by-line, going through each claim and figuring out why it was denied or hasn't been paid, and contacting the insurance company to get it paid. This also could mean researching to find out what your claim needs for resubmission. As we said, this takes time. We recommend double monitors to work efficiently.
You can also sort your outstanding claims by the insurance company to work through claims more efficiently. Once you have an insurance representative on the phone, you can get answers on multiple different claims and look for trends with that carrier.
If your insurance aging report is hefty, we recommend always working from oldest to newest claims. Most insurance companies have a time limit (timely filing) on when they will pay a claim, so it's best to attend to the oldest claims first, as their timely filing will expire sooner.
4. Post and reconcile your payments every day
There are a lot of payments coming into your dental practice. It's important to keep track of them, especially your insurance claims payments.
This can be done through daily payment posting to your software and reconciling your payments at the end of each day. Our insurance billers do this for the dental teams we work with by sending a daily deposit report.
This report shows everything your dental practice made that day, and lets you know every payment that has been posted to your practice management software. We recommend all dental teams do some kind of reconciliation like this at the end of each day to keep track of payments.
This means you're checking that the payment you've posted to your software matches what is in your bank account.
This is also a great way to keep track of errors or even potential embezzlement. Reconciling at the end of each day means you know every penny you've made, and in a sense, everything adds up.
We recommend that more than one person's eyes are reconciling your payments. This can help control the risk of embezzlement, and having two sets of eyes on the numbers increases your chances of catching errors.
5. Invest in continuous dental insurance billing education
Investing in continuous training for your dental team is important because dental insurance regulations are constantly updating and changing.
To ensure your team's success, and the happiness of your patients, keep your team up to date on the latest dental insurance education. This could mean enrolling them in online courses, or having them attend an annual conference. The topics they need to be up to date on can range from the annual CDT coding changes, to general best billing practices.
With the rise of technology and automation, your team could be learning how to take advantage of tools such as these to improve their efficiency, and even make billing easier for patients.
With continuous training, your team will feel confident in any dental insurance billing task presented to them.
Ready to put these dental insurance billing tips to good use?
Dental insurance billing is challenging, don't be hard on yourself if your team has a hard time keeping track of it all. These tips can help your insurance billing process get organized, and know what should be a priority for your administrative team.
And if you invest in your team's continuous education, you're sure to enjoy the financial benefits of a knowledgeable team.
If you've read these tips, and still think you could use some help, Dental ClaimSupport can give you the cash flow you can count on. Easy insurance income isn't a pipe dream — it's your reality when you work with Dental ClaimSupport.
Schedule a call with one of our experts today to learn more about how outsourcing your dental billing can give you a worry-free claims process.
Related Posts
Dental billing resources