A digital dental practice: 3 reasons why you should embrace technology at the office

Do you ever look back to 10 years ago and feel shocked by the technology we have today?
As a dental professional, you might see dental technology and the new digital age and think that it's coming for your job. But the truth is, a digital dental practice is something to embrace because it benefits your revenue, productivity, and even your patients.
When we say "digital dental practice," we mean a team that uses digital tools and solutions to make the office run effectively and efficiently.
DCS is a full-service revenue cycle management service provider. Our billing experts empower dental teams to put patients first by producing a worry-free dental billing process. We work most efficiently with digital dental practices, helping generate easy cash flow.
That's why we're writing this article — to share how beneficial and profitable it is to embrace having a digital dental practice. And in most cases, technology is your friend. At the dental practice, the more digital you are, the more profitable you're going to be.
Let's dive in.
1. You will work more efficiently, leading to higher revenue
Turning your practice into a digital dental practice will help increase your dental team's productivity.
For example, have you ever spent too much time contacting a patient about their treatment date? You know the drill. You look at the calendar, see a patient's appointment is coming up, and call to remind them. You are attempting to confirm their date and time, but they won't pick up the phone.
So you give it an hour or a day, and you call them again to confirm their appointment. This is likely the case for more than one patient, so how much time have you spent trying to contact patients to confirm their appointments, when you could have done something else?
You could have spent time trying to contact new patients, increasing your patient base and revenue. You could also have spent more time with in-office patients, cultivating a relationship with them.
If you had an automated patient follow-up system, you wouldn't even have to worry about it.
Automated practice management systems can save you time and money
Let's keep going with our previous example and explore automating your patient billing.
When you take advantage of technology like this, you don't have to spend time calling patients to confirm their appointments. You also don't have to chase them down for their balance.
With automated patient billing, you'll have billing software that contains each of your patient's information. The software will send out payment reminders and confirmations.
---
Related: 3 reasons to automate your patient billing services ASAP
---
So you're spending less time on the phone, but you're also spending less money on mailing patients their bills. You will collect more accurately from patients as well.
Insurance estimates aren't always accurate. So, in the event there is a patient balance left after insurance payments are posted, the patient billing system automatically generates a request for payment that is sent to the patient.
This cuts out a ton of extra paperwork for your dental team. They can instead focus on tasks that will help make your dental practice more money.
2. Resources like RCM services can work with you more easily

Are you still using paper charts at your dental practice? We don't ask this to embarrass you. But when you switch to digital charting and digital clinical notes, you'll be able to outsource to RCM (revenue cycle management) services more easily.
Outsourced RCM has become the new normal for many dental practices across the United States. The services that RCM companies provide will help your practice make more money while costing less than hiring a full-time billing/insurance coordinator.
---
Related: Top 10 benefits to outsourcing dental RCM services in 2023
---
Sounds great, right? It is! But the best way to work with RCM services is to be as digital as possible. Our DCS' biller, for example, will remotely log into your practice management software to submit your insurance claims.
If you haven't digitized your charting or clinical notes system, it's much harder for the biller to send a clean insurance claim with all the required documentation for basic restorative to major dental treatment to be quickly reimbursed.
And as you know, attachments are crucial to accurate claim submission.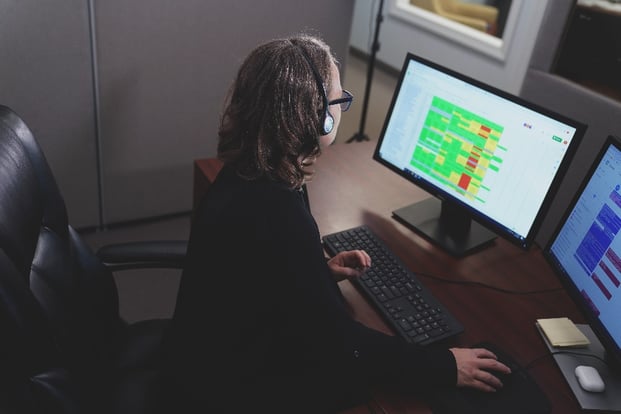 The more digital your practice is, the more money RCM services will make you
When you have updated, modern practice management software, digital charting and notes, and a reliable, up-to-date internal network, RCM services will make you more money.
A digital dental practice will lead to more accurate claim submission leading to higher insurance collections and higher patient collections. You will see your revenue increase when the outsourced biller has easy access to everything needed to submit accurate claims.
Additionally, you'll experience faster results from your RCM services because they'll work more efficiently and access information digitally.
3. Your patients will appreciate the modernity of your dental practice
Have you ever been in an office space that hasn't been updated since 2005? It's less appealing, right?
Your patients will feel the same way about your dental practice.
While your patients won't know too much about how modern your actual dental tools are, they will notice the look of your office, your computers, your phone, and their overall experience.
And it's not just your office! How user-friendly is your practice's website?
---
Related: 3 updates to modernize your dental office and improve revenue
---
For example, offering an easy scheduling system on your website is a huge draw to patients. You could have an availability calendar that is easy for patients to view, where they simply schedule their own appointment without picking up the phone.
But if your website hasn't been updated in years, it lags, and frustrates the user — that will lead to a dropped customer. A digital dental practice will remove tedious tasks from your plate, resulting in you being able to give your patients more attention.
The patient will see this and trust that they will have a seamless dental experience.
Collect more revenue with your modern technology and RCM services
Technology is your friend. When you embrace becoming a digital dental practice, you will see your team members, revenue, and dental patients thrive. Digitizing where possible will increase productivity, open doors for RCM services, and give your patients a seamless dental experience.
With modern updates, DCS is an RCM service that empowers your team to deliver your best patient care with worry-free dental billing.
To learn more about how DCS will transform your revenue cycle, schedule a call with one of our experts.
Related Posts
Dental billing resources