Fear of service outsourcing: Is it justified for dental teams?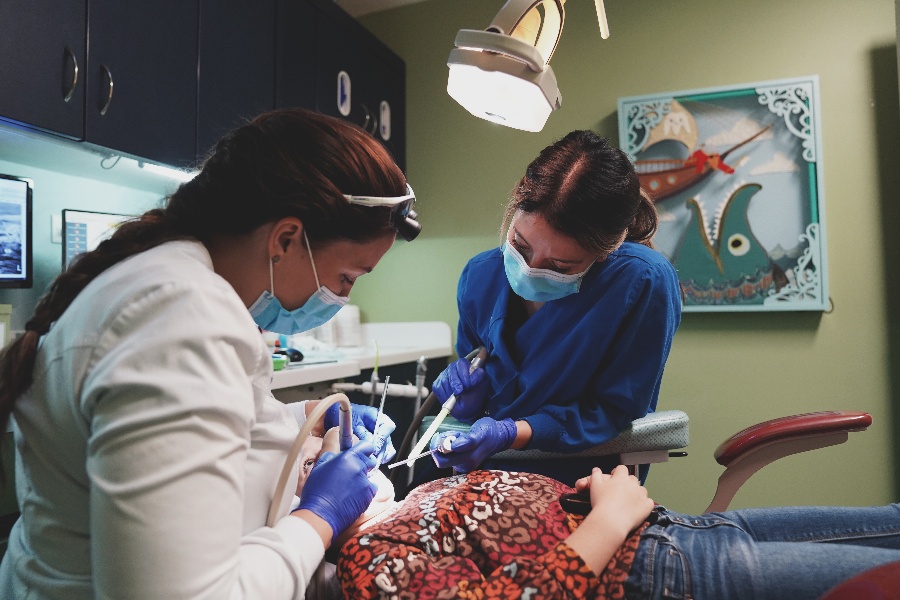 Your dental team has a huge fear of service outsourcing. But your dental insurance collections are down, and you're looking for billing solutions. If you did choose to outsource your dental practice's billing, it would be a huge change for your dental team. And change doesn't come without fears. Especially among two key players - the dentist and office manager.
As a trusted billing partner, Dental ClaimSupport has seen how these fears can keep your team from fully understanding the benefits of dental billing outsourcing. And if your fears keep you from even trying to outsource your billing, you could be missing out on a huge chunk of income from unpaid claims.
That's why we're going to address those fears in this article. We will address 3 common fears from both the dentist and the office manager when it comes to service outsourcing. We will then explain why these fears are typically false because of the realities of outsourcing your dental billing.
Once you understand these fears and the truth behind them, you'll be able to have a clearer picture of what it means to outsource your dental billing, and you'll see how it's a great billing solution.
Common fears for office managers when outsourcing your dental billing
As a dental billing company, we typically see the most fear from office managers and other members of the administrative team. The administrative team is the heart of the dental practice and keeps everything running smoothly for both the dentist and the patients.
Because office managers are so involved in the nitty gritty, everyday minutia of the practice, their daily work will likely be the most affected by outsourcing. Let's get into how the idea of this change can bring on some fears for the office manager.
1. Loss of employment
A huge fear we see among office managers and other administrative team members is a loss in employment once an outsourced biller is brought in.
You're so used to handling the billing process yourself, that the idea of someone else handling it might threaten your value at the dental practice. This isn't true! Unless you've performed poorly or done something unethical, there's no reason for you to think you're losing your job once an outsourced dental billing company is hired.
The outsourced dental biller is like an extension of the administrative team, working on your insurance claims behind the scenes while you, as the office manager, remain front and center.
2. Loss of the work you're proud of
We have found that many office managers pride themselves on being the first ones in the office and the last ones to leave, working the most hours.
Especially when it comes to billing and all of the hard work it takes to get done - office managers don't want to lose that responsibility. And we get it! When you're capable of running your office and maintaining a dental billing process, it's a lot to be proud of. However, that is a mountain of work! Just because you're capable of getting it done, doesn't mean you should have to.
And we're here to tell you that you can be an even better leader if you aren't bogged down with the tedious dental claims work. A good leader knows how to delegate and this is where an outsourced dental billing company can help. You can focus on leading your administrative team while the biller takes care of your insurance claims.
Don't worry, you'll still have plenty of work to do! But you also might be able to take a lunch break and leave the dental practice at a decent hour. And feeling balanced at work prevents burnout.
3. Loss of general control
As we mentioned, when you're the office manager, you're running the show. Because of this, you control many aspects of how the dental practice runs. This can include the dental billing process.
When an outsourced biller comes in, you might feel panicked because all of the sudden, someone else is controlling your insurance claims process. And this can be hard, but letting a dental insurance billing expert take over your claims can bring you a lot of relief (if you let it!).
Dental insurance claims work is so specific and niche. You need someone with experience and a constant access pool of experts. If your biller ever gets stumped on an insurance billing question, they can ask one of their fellow billers at the company about it. It's a wealth of billing knowledge that is invaluable.
When you let an expert handle your billing you aren't really losing control, you're delegating a time-consuming task to someone else and using your own time more efficiently.
Common fears for dentists when outsourcing your dental billing
The person making the decision about outsourcing their dental billing is typically the dentist, who is also the business owner. When you're making the decision, it's normal to have a few fears or hesitations.
It's your business and your livelihood. Business decisions shouldn't be made lightly. Figuring out what your fears mean and if there is any truth behind them is a big part of your decision. So let's get into them.
1. Loss of loyalty from the staff
Loyalty is huge at dental practices. Many employees work at the same dental practice for up to 25 years or more. When this is the case, and your office manager or members of your administrative team feel like a part of your family, introducing a billing company into the mix can seem like a betrayal.
You might be thinking, "What if they hate the idea, and think I don't value their work?"
To that we say three things: 1. Remember that you value their time, and it's too important to waste on time-consuming and complicated stall tactics from insurers.
If the person handling it ALSO has other responsibilities, it's impossible for them to do both well. 2. You value their presence in the office, and need them to help you build healthy patient relationships.
The remote biller is an extension of your team, not a replacement. 3. Each person behind the desk a key player in the financial health of your practice, and you need their support for this.
Ultimately it's your decision of course.
If you're nervous about what your team is going to think, do a few things to help them accept the potential change:
Let them know this is something you're considering so that they aren't blindsided
Inform them about how the transition will work as soon as you know
Let them be involved in the process – cooperation and communication is key
Listen and address their concerns or fears (Your office manager might mention the ones we addressed earlier!)
Explain that this is going to help the dental practice make more money and free up everyone's time. This should make sense to them.
2. Loss of revenue due to cost of outsourcing
Another fear we see among dentists is cost. If you're looking into outsourced dental billing, it's likely your collections are already lower than they should be. So you need a solution that will collect more revenue without raising overhead costs.
Well, this news may surprise you! Outsourcing your dental billing is the most cost-effective way to earn easy claims income and streamline your billing process. Our clients see an average of 62% less in overhead costs by using our dental billing services.
Each dental billing company's prices are different, but on average, you're going to pay a minimum of around $1,300 per month, depending on your insurance collection numbers. Paying an insurance coordinator to handle your billing can cost around $50,000 per year, depending on their experience. And due to recent inflation, that salary average is going up rapidly.
See for yourself on our dental billing savings calculator
Dive deeper into the cost of outsourced dental billing versus in-house billing in our Learning Center.
3. The problem might be made worse by an outsourced biller
Hey - there's always a risk that when hiring a dental billing company, their biller might not perform well. We agree, you should not have to worry about service quality when you are paying to have your insurance claims taken care of properly.
This is a valid fear, and it's combatted by good vetting. How do you tell which service is a good fit for your office? When you research dental billing companies, make sure to ask the following questions:
What is the hiring process for your dental billers?
How are your dental billers trained?
How continuous is education for your dental billers?
How do you monitor the quality of the work?
What collection rate do you aim for?
These questions can help you determine how skilled your dental biller actually is. If they have a rigorous interview process for billers, and a formal training process for the billers - you should have no problem and look forward to higher collections.
Ready to overcome your fears and get easy claims income?
Making changes like outsourcing your dental billing can be scary, especially if you're the office manager or dentist. You're used to controlling the billing process and/or making decisions, and when someone else is handling a portion of your revenue generator, fears can creep in.
Outsourcing your dental billing with a high-quality, trusted billing partner is a great way to find balance for your employees and collect more.
You'll notice more consistent cash flow when you work with a trustworthy dental billing partner like Dental ClaimSupport. Schedule a call with one of our experts to learn more.
Related Posts
Dental billing resources