10 tips for running a successful and efficient dental practice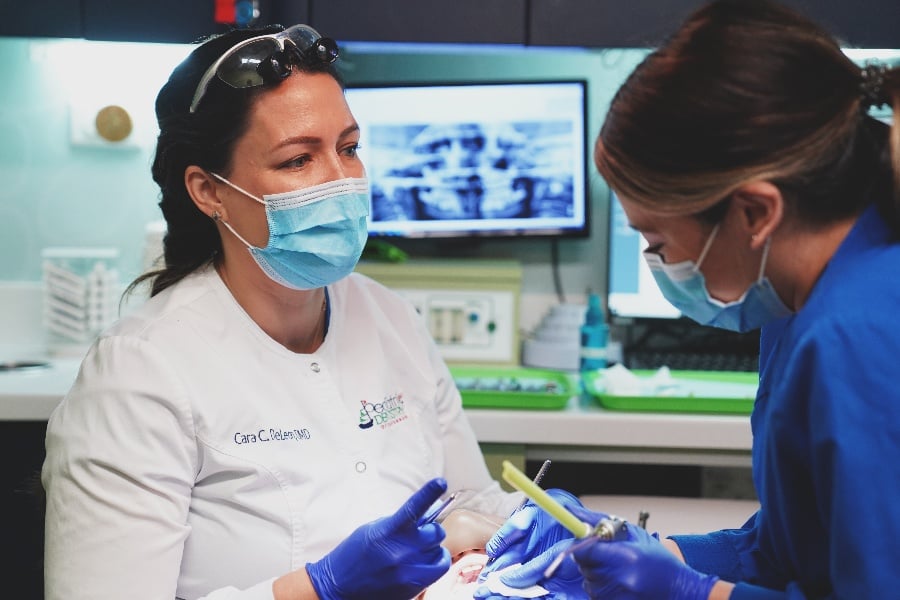 When it comes to keeping your dental practice efficient and successful, many dentists aren't sure where to start. You want to improve your dental practice profits, but you need profitable practice strategies that you can use easily. What needs to be done first?
Well, there isn't a perfect order of priority to help you make more money in your dental office without more stress, but there are plenty of things you can adjust to be successful. Swift, accurate revenue streams make you profitable. If you want a healthy practice, make sure your billing systems pay you easily and in full.
Dental ClaimSupport is a dental insurance billing service that helps practices run a streamlined billing process. And through our 10 years of experience collecting from all kinds of insurance plans, we understand how to streamline the insurance claims process to make your dental office more profitable.
In this article, we will take you through 10 tips that will help your dental practice run successfully and efficiently. After reading this you will be able to take away several changes to better impact your employees, your patient experience, and also your financial success.
1. Focus first on your insurance claims process
We put this tip as #1 because a lot of cash flow problems in dental practices can be traced back to the insurance billing system in place.
You need to get the insurance claims process running efficiently. Whether you have an in-house biller or a billing service, a clear picture of how much cash your billing system is putting in the bank is crucial to having a successful practice.
Getting all your insurance claims paid is a tough job. Insurance billing is especially hard to do fast and well, because codes, policies, and laws keep changing. Re-working claims done with old information is beyond time-consuming. It's a massive revenue drain.
Most billers are trained by the previous insurance coordinator and inherit inefficient steps and knowledge gaps. Because of the gaps, they can't get all the work done, and they pass the task of insurance billing back and forth hoping somehow more hands will succeed in catching up on all of the unpaid insurance claims.
But this won't work because no one has the time to focus on the steps it takes to get claims paid. This leads to not only a tense relationship between your employees but also a messy billing system. And a messy billing system means inaccurate claims are being submitted and inevitably denied by insurance companies.
Your practice will not be able to receive insurance claim payments, which can account for about 50% of your revenue.
Check your collection rate to implement a streamlined insurance billing process
The number to check to will make sure your process runs smoothly is your collection rate. The steps to get this number include:
Get the total production for 1 month or all billable work you performed.
Subtract any write-offs. That's your net production.
Get the total deposits received for that month, divided by net production.
And that's your collections percentage!
If your collection percentage is under 98%, that's revenue you're losing each year. It's heartbreaking to have to write off tens or hundreds of thousands because the billing system couldn't collect it.
Clean claims will improve your collection rate. Some bonus tips include:
Creating and submitting claims every day (within 24 hours of the date of service).
Ensuring

proper supporting documentation

(x-rays, clinical notes, intraoral photos) are attached to each claim for proof of necessity.

Posting payments to the practice management software

every day (within 24 hours of receiving payment from insurance companies).
Reconciling and balancing insurance claim payments in the bank account every day.
Working the insurance aging report every day to appeal previously denied claims that are over 30 days old.
A good claims service will do all this and more. By seeing this process from start to finish, the insurance biller will be able to have a clean claims process. The insurance biller should have no other responsibilities than those we mentioned above. When the biller is distracted by tasks other than insurance, mistakes become more frequent leading to claim denials.
2. Implement a streamlined patient billing process
Once your insurance claims system is in order, your patient billing process needs to be the next priority. Why patient billing specifically? Because after insurance collection, an efficient process to collect patient revenue directly impacts your practice's bottom line.
Nobody can care for your dental patients the way you do. And you deserve to have patients who will pay you promptly. That's why you shouldn't outsource your patient billing.
The best patient collection system is the one you run in-house. Receiving payments from patients can sometimes be awkward, but once you are 100% confident you've gotten all insurance will cover, your patient will trust the amount billed on your statements a lot more.
A streamlined patient billing process means that you're properly verifying patient insurance BEFORE the day of their appointment.
It also means that through this insurance verification, you understand how to properly calculate their out-of-pocket estimated cost and communicate this to them before their procedure. When the patient knows the estimate of what they will owe, they can prepare their finances accordingly.
Here's the caveat though - you need to educate them about their insurance benefits. They should have a clear understanding of not only the treatment, appointments necessary, and chair time. That's when having a great working relationship with an expert insurance biller is a big advantage. You will know what the insurance company covered from notes in the patient record, and from regular contact with your biller.
This clear line of communication will make the patient billing a smooth process.
3. Make it as easy as possible for patients to pay on the date of service right after their procedure
Another way to streamline your patient billing process is to make it as easy as possible for you to collect patient payments upfront.
Ask politely to get the patient's paperwork, payment, and next appointment completed so that when they are finished they can walk right out the door and don't have to worry about discussing all this when their mouth is numb.
Make sure you accept all forms of payment (cash, credit cards, and checks) and offer third-party payment plans for those who are unable to pay their portion in full.
4. Have a streamlined scheduling system
Being organized when it comes to scheduling is crucial because you're handling people's time. And if you get dates or times of dental appointments mixed up, you're going to have an angry patient!
So make sure you have someone on your administrative team who can dedicate a good bit of their time working on the schedule for the dental practice, keeping it full and organized. You can schedule patient visits using your practice management software, and sync your calendar to it.
A lot of this process can be automated as well. Specifically appointment confirmations via text or email. This will remind the patient a few weeks out, a week out, or the day before that they have a dental appointment.
If they're a no-show, be sure to have a system in place for calling immediately and rescheduling.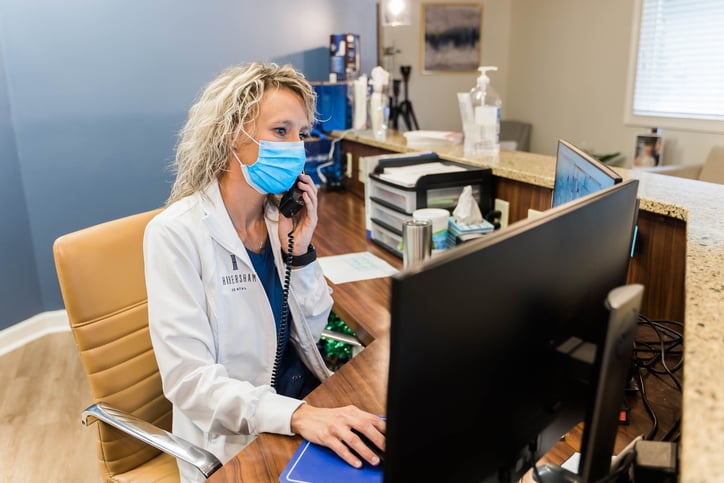 5. Keep your office modern and updated
The most efficient dental practices are the ones that are constantly evolving and updating their technology and systems.
The world of dentistry is always changing, especially with advances in technology, so it's crucial to keep up with the latest changes to optimize efficiency. New technologies can often lead to easier ways of completing tasks around the office, such as digital charting.
Some offices have a hard time embracing these modern updates, but they really can help make processes (especially billing and scheduling!) easier. Not to mention, to maintain HIPAA compliance for your patient's privacy, specific parts of your system have to be updated regularly such as your network passwords.
When you have a more modern office, patients see this as a positive part of their dental experience.
6. Have clear roles and responsibilities among your employees
Although we have emphasized the importance of having an insurance biller, this is not the only role that should be defined at your dental practice.
When there are no defined roles and responsibilities within the practice, certain tasks might not be completed accurately or at all. The following tasks should be delegated to specific members of your administrative team:
Patient billing
Patient scheduling
Insurance billing
Patient check-in/out
We're not saying you need one person for each of these tasks, but divided up among a few team members is ideal for an efficient workflow (apart from insurance billing). When everyone knows exactly what they need to be doing, there is a higher productivity rate and more organization.
It also helps your team work together with one another, instead of passing tasks off to whoever can make the time. Not to mention - patients can tell when your dental practice is unorganized! And that can deter them from returning for future dental appointments.
7. Keep educated about dental billing best practices
As we mentioned, the dental industry is always changing and evolving. Not only is technology changing, but dental billing is changing, specifically, dental insurance.
The hard truth is that dental insurance will always work to make it more and more difficult for you to have your claims paid. They do this by constantly changing their policies, rules, and fine print. Plus, coding changes happen annually. This is a lot to stay up to date with, but it's crucial because not knowing these changes can result in more denied claims and payment delays.
To combat this, your dental team should be continuously educated and trained on dental billing topics such as coding, billing best practices, and software changes.
Through this continuous education, your team will never feel lost when working through insurance issues or questions from patients and will feel more confident in their roles.
8. Create actionable goals for the entire team
When it comes to running any business, having goals for you and your employees is what keeps the ball rolling. Especially when there are financial incentives, it motivates your employees to be exceptional in their roles and prevents burn-out.
Make sure these goals are achievable. It could be raising your collections percentage by an achievable number. Or it could be getting a certain number of new patients within a few months.
Obviously, it's great to be ambitious with your goals, but the people who are in the weeds of getting those insurance and patient collections done are going to know what is and what's not possible, specifically when it comes to numbers.
This goal-based approach also cultivates more teamwork. With everyone doing their part to reach common goals, it brings your employees together.
9. Create a system for patient referrals
This is related to keeping your calendar full, but a patient referral program can help bring more patients into your practice.
Create a program where if your patients succeed in recommending your practice to their friends, that patient is entered to win something in a drawing.. Make it a point to ask your patient how their visit was.
If they report a positive experience, thank them and then hand them your business card asking them to please share their experience with others. On the back of your card, you can put a QR code or link to your website or your Google business page where they can leave a review.
This is also a great way to create relationships with your current patients that can last years and years.
Creating these relationships will lead to patient retention and open a pathway for new patients. It's a win-win for both you and your current patients!
10. Monitor the performance of your team and dental practice
The last tip we have for running a successful dental practice is monitoring the performance of your team and your practice as a whole.
This means keeping track of your numbers such as:
Patient retention number
The dollar amount of write-offs
Insurance collections percentage
Patient collections percentage
Insurance aging report
Cancellation numbers
These numbers will give you an idea of how each facet of your practice is performing, showing spikes or lulls in productivity. In other words, you can see what's working and what isn't. You can also see how your employees are performing through these numbers.
Dive deeper into 5 reports every successful dental practice runs in our Learning Center.
Ready to reach your dental practice's financial goals?
Running a productive dental practice is a lot of work. There are many moving parts and each one is dependent on the other. When you have the right people in place, streamlined systems, updated technology, and continuous billing training, you are sure to have a productive and profitable practice.
Dental ClaimSupport offers insurance billing services that can have a domino effect on the productivity of your dental practice. Your insurance billing and who handles it can have a huge impact on how your team works and how much money your practice brings in.
To learn more about how your practice can bring in more money, read our article "4 things you can do to raise your dental practice income."
Related Posts
Dental billing resources