5 top revenue cycle management tips for your dental practice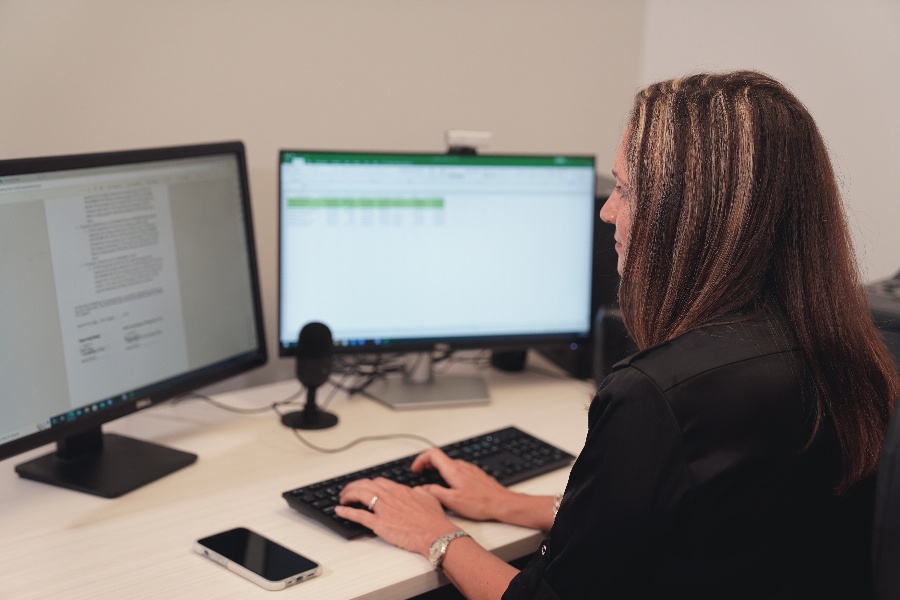 Revenue cycle management (RCM) in healthcare describes the system to track services and collect revenue, from appointment to payment. From the moment you type a dental patient's name into your schedule, you're involved in RCM. Good RCM is essential to the financial health of your practice because it helps you stay focused on patient care.
As your practice grows, setting up an efficient RCM process is more important than ever. Do you know what you need to know to manage your dental practice's revenue cycle? This article will help you understand RCM and how you can improve it.
Dental Claim Support is a trusted dental billing partner that has helped dental teams create more consistent cash flow by streamlining their billing process. By helping dental teams collect the money they have earned from insurance companies, we've observed best practices that help make your dental practice more profitable.
The goal of your revenue cycle management strategy is to enable you to increase revenue and lower costs. Managing your revenue cycle means you are taking steps to ensure that all the tasks between providing a service and receiving payment are as efficient as possible.
In this article, we're sharing 5 tips on revenue cycle management for your dental practice. With these tips, you can confidently make changes that will take your stream of income to the next level, and provide you with the confidence it takes to run a profitable dental practice.
Tip #1: Start strong with collecting, recording, and verifying all patient information
Your revenue cycle starts with your patient's initial phone call and scheduling an appointment. How you handle this phone call will lay the foundation for how the entire rest of your revenue cycle will go.
When your patient calls to make an appointment, this is when you do one of two things:
If they are a previous patient, confirm that all of their information is still correct.
Home address
Insurance provider
Phone number/Email address
If they are a new patient, you will gather, record and verify the following information:
Name of insurance provider
Member ID number
Member DOB
Patient DOB, if different than the Member
Name of employer
Group ID number
Telephone number of insurance (if you do not have a login for the web portal)
It's important this information is accurate because if there is an error it can halt your revenue cycle. Verification of coverage and benefits should be completed at least 2-3 days before the appointment.
If you do not obtain and verify the information, the claim you submit with wrong information will be denied, resulting in a delay in payment. And your team will have to spend extra time figuring out which part of the claim is inaccurate, correct it, and resubmit it.
Streamlining your insurance verification process is a great way to avoid denials, leading to a stronger revenue cycle.
Tip #2: Prioritize knowing best dental billing practices
How often is your dental team seeking out new strategies for moving through the dental billing process? Is your team involved in chat rooms, subscribed to newsletters or other forums that can help them stay up to date on dental billing best practices?
Making this knowledge a priority for your team to understand is a great way to manage your revenue cycle. With your team knowing their own tips and strategies to stay organized and productive, your revenue will flow more smoothly. There will be less time spent asking questions or getting stuck on problems.
For example, does your team know the best practices for posting insurance payments to your practice management software? Here are some tips they should already be aware of:
Post within 24 hours of receiving payment
Use the bulk payment feature
Post your insurance payments and insurance write-offs by "Line Item" and by procedure and provider
Balance your posted payments with your bank account deposits daily
If you showed this list and they weren't aware of one or more of these tips, it might be a good idea to look into some dental billing training or resources.
This way you know your team is working as efficiently as possible, with a wealth of dental billing knowledge in their back pocket.
Tip #3: Keep your calendar full through strategic scheduling
Keeping the schedule full is a surefire way to keep your revenue flowing.
Without patients, you have no business! So make sure your team is taking steps to keep your calendar busy. This can include following up with patients about unscheduled treatment. For example, say a patient came in for a routine cleaning, but you noticed they needed some filings.
You tried to get them on the calendar for their treatment, but they said they would get back to you about a date that worked for them.
This is what unscheduled treatment is. Call the patient, let them know how important those fillings are for their oral health, and get them on the calendar. It helps to offer several options for the appointment. Taking steps like this is filling your calendar with purpose. Patients are getting the care they truly need, and you're moving your revenue cycle along.
Tip #4: Take advantage of ways to increase revenue and lower your costs: consider using a dental billing service
Many dental practice leaders assume the best way to manage insurance billing is in-house. One of the biggest RCM mistakes is to leave this assumption unchecked. Dental insurance claims can account for about 50% of your revenue – a substantial amount. So, having the most efficient claims collection process in place is often a great way to get cash flow you can count on.
Take time to understand the benefits of outsourcing, and make an objective cost comparison. A dental billing service will remotely access your practice management software, submit the claims you've created, and see them through until they are paid, and post payments accurately into your software for you.
DCS dental billing services will also take care of working your insurance aging report by going through your claims, researching why they weren't paid, and appealing them.
This kind of work is time-consuming and tedious for your in-house team. That's why outsourced billing has become so common among dental and medical professionals alike. Utilizing tools like outsourced billing can lead to a stronger revenue cycle and even a more productive in-house team (because they aren't bogged down with insurance claims!).
Tip #5: Take steps to get new patients at your dental practice (and keep your current ones)
Another way to improve your revenue cycle management is to prioritize your patient care and outreach.
Does your team spend time trying to get new patients at the dental practice? This might mean using social media more often and/or implementing a referral program at your practice.
Social media is free advertising - use it! It's an easy, accessible way for patients to find your practice. You should also make sure your Google Listing is up to date (address, phone number, office hours, etc.) so that you are easy to search for.
Patient referrals are also a great way to get new people into your office. When the patient is checking out, ask them how their visit was and ask for feedback. This is a great time to share your business card with them to share with friends and family.
Keep in mind that before you offer a reward for referrals, you need to check your state and federal guidelines. Some states allow you to have an internal referral program, but some do not. There are many federal guidelines with specific rules for rewarding patients for referrals. Your state dental association should be able to guide you through the rules.
If they do, some practices will explain their "Care to Share Program" where if they refer someone, they will get a small gift as a token of thanks. Other practices will just send a nice handwritten thank you letter, from the doctor and include extra business cards.
Ready to outsource your billing to improve your revenue cycle further?
Revenue cycle management means you take steps to ensure your cash flow is steady, and your team is making efforts to keep it that way. Your dental practice is a place of oral healthcare, but it is a business. And with these tips, you'll be able to manage your revenue cycle confidently.
Dental ClaimSupport is a dental billing friend for teams looking for cash flow they can count on. When you have a clear, accurate, and compliant billing process, running your practice is easy and profitable.
To learn more about how outsourcing your dental billing can lead to easy revenue cycle management, schedule a call with one of our experts.
Related Posts
Dental billing resources