Making the dental office more efficient: 10 tips for your dental team's financial and professional success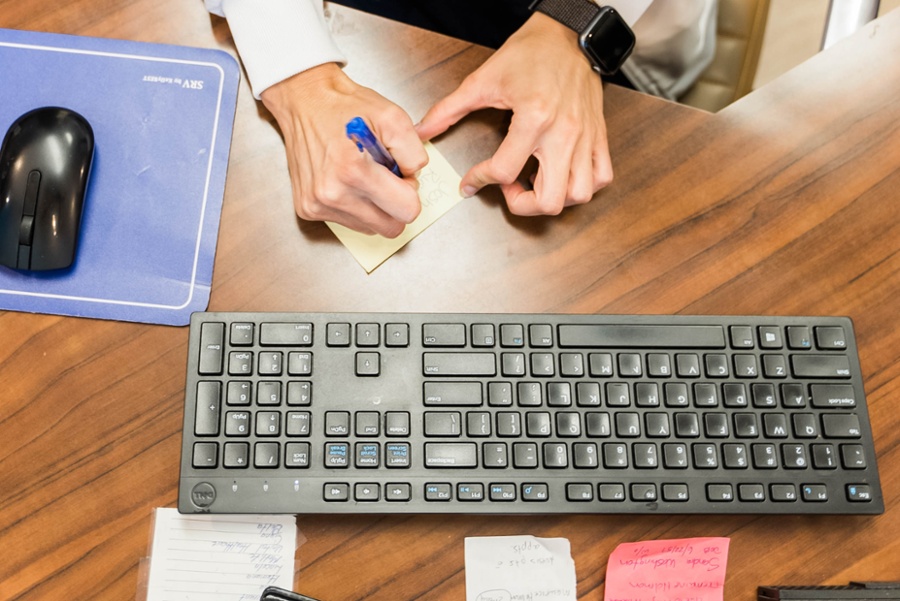 You want to make the dental office more efficient, but you're not sure where to start. If you're in any leadership role, there are specific areas you can check to improve your dental business.
A successful practice delivers an excellent patient experience. Your office systems must also collect the most revenue at the lowest cost. This takes streamlined processes, more organization, and a more aligned dental team. So how can you make this happen?
At DCS, efficiency is a top priority when serving every dental team, so that you collect revenue easily for your patient care.
We've compiled 10 practical tips to help you make the dental office more efficient.
By applying these 10 tips to your practice, you'll see:
Higher revenue from clearer organization
A more productive and confident dental team
And of course, a more overall efficient dental practice
Tip #1: Check the patient billing process for inefficiencies



Take a look at your current processes for patient billing. Are they straightforward and documented? We recommend writing down standard operating procedures. Breaking down your process can quickly reveal bottlenecks.
Here are three excellent tips for patient billing from DentistryIQ:
Send your patient their bill ASAP

so that you can get paid ASAP

Make sure you educate AND remind your patients

of how their insurance benefits work.

Send your patient's bills over the course of the month

, not all on one day. This way you have a steady stream of income all month, versus a huge spike in collections in one day.
When evaluating your patient billing process, it's important to understand the reasons why patients don't pay, and address them. This survey from Pearly.co lists the most common reasons why patients don't pay their bill:
They are unable to afford their bill

There is confusion on what they are responsible for versus what dental insurance is responsible for

There isn't a convenient way to pay online

They are confused by what is actually on the bill (procedure codes, percentages, etc.)

Lack of payment reminders
Do you have procedures to help patients resolve payment issues? A technology update can help. Consider making your patient billing process more efficient by automating it.
Patient billing software allows patients to pay online. You can offer more ways to accept payment, such as credit cards, mobile payment apps, bank transfers, etc. Automation saves hours of staff time by sending reminders and statements without manual tasks.
---
Related: See 3 top benefits to automating the patient billing process
---
Tip #2: Make sure that the dental insurance billing process is optimized
The dental insurance billing process is complicated.
Take a look at your current insurance claims submission process. Is it optimized? Here are a few things to look for:
Insurance verification is performed at least 3 days before the patient's visit

Insurance claims reviewed for accuracy daily, then promptly submitted

Payments posted promptly once received

The insurance aging report is worked through once a week, minimum

Claim denials are regularly appealed

Your team has continuous training on procedure codes, insurance regulations, and policy updates
---
Related: 5 dental insurance billing tips for success
---
Does your team have the time and expertise to dedicate to your insurance billing process?
Insurance collection is arguably the hardest part of the dental revenue cycle to manage effectively. It's the most complex part of the revenue cycle. So it has to be streamlined to avoid high overhead costs and unnecessary losses.
Low insurance reimbursement is a growing concern for every dental business, from solo practitioners to the largest DSOs.
Rather than fight insurance battles themselves, many dental businesses transfer such operational headaches to dental billing experts, like DCS. This reduces or eliminates staffing costs, lowers overhead, and raises the insurance collection rate.
Tip #3: Optimize your scheduling system to reduce wait times and fill the schedule
To be more efficient, be strategic when it comes to your scheduling system. This means taking steps to properly fill the calendar, and block time appropriately to avoid wait times.
How to make a dental office more efficient when scheduling patients:
Schedule the next appointment when the patient is checking out

Call patients with unscheduled treatments and get them on your calendar

Plan appointment length to minimize wait times
According to Dentistry Today, "the average wait time to see a physician is 19 minutes. The threshold before the patients get frustrated is 20 minutes."
That's cutting it a bit close.
There will always be things about treating a patient that dentists can't control, like if a treatment goes overtime. But to keep waiting times as low as you can, make sure to know an estimation of how much time each treatment takes.
When you have patients sitting around waiting to be treated, they'll not just have a bad experience — it will make your practice more unorganized.
Tip #4: Align your dental team through clear communication and role clarity
Clear and effective communication is a great way to align your dental team to increase efficiency. This means your team easily shares information with one another, collaborates when necessary, and feels comfortable bringing concerns or ideas to the table.
When your staff is unhappy, they aren't going to give you their best performance.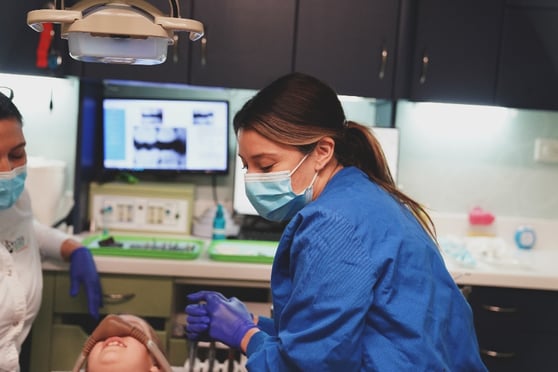 Meeting weekly with your entire dental team can help improve communication and alignment. It also helps everyone feel seen and heard, which will help everyone work better together.
---
Related: 3 simple ingredients to elevate your dental office management: financial and professional
---
Being clear on everyone's roles and responsibilities can also help your team be more efficient. No one is stepping on anyone's toes, and tasks are divided up appropriately.
Alignment with your dental team leads to efficiency (and happy employees!).
Tip #5: Take advantage of the tools in your practice management software
As you can tell from our tip about automating your patient billing, we're big fans of tech tools that make your job easier.
Technology can automate otherwise manual tasks. Your practice management software is a great tool to take advantage of. It's an easy way to generate reports to see the financial health of your practice, and it makes every day administrative tasks much easier.
For example, you can easily update or upload your fee schedule in your software. Doing so will automatically give you patient out-of-pocket costs, their insurance breakdowns, and more.
Setting up your PPO fee schedule in your software will help you avoid having to manually calculate your patient's bill during check out. The software does it for you! Take advantage of tools like this to make your dental office more efficient.
Tip #6: Provide your patients with clear financial expectations and agreements
Do you sometimes have back and forth with patients about their treatment cost? Obviously, this isn't a great use of time, but it can also hurt your relationship with patients.
To be more efficient and give your patient a better experience, discuss treatment costs up front, including their out-of-pocket estimate.
If they are a new patient, take them into your consultation room and go through their insurance breakdown with them to let them know the ballpark number of what they'll be paying, and how much their insurance will likely cover.
---
Related: How to handle a dental patient who has a problem with their bill
---
We recommend creating a financial agreement that your patient will review and sign before their treatment, understanding that they are responsible for the full cost of their treatment. This will ensure they were legally aware of the potential cost of their treatment, and must pay you.
Tip #7: Keep your patients' insurance information up to date
Insurance verification is crucial for both patient and insurance collections.
What's your team's current process for collecting and verifying patient insurance information?
Using correct eligibility information improves the chance you'll get the full reimbursement your practice is entitled to.
To make a dental office more efficient, you need to keep your insurance verification process free from bottlenecks. That means your system should perform insurance verification at least 3 days before the patient's treatment. Then, if there is a problem or question, you can reach out to the patient before they are in your office.
Accurate coverage data is key to your goal of running an efficient dental business.
Technology and AI is making insurance verification easier to automate. Using a service can help you take advantage of these tools. Updating benefit information will help you collect more from both your patients AND insurance. And it will make your checkout and claim submission processes smoother.
Tip #8: Train your staff on how to communicate with patients and answer their billing questions
Take time to train your team on great customer service and patient policies in your office. It seems self-explanatory, but formally training your team can lessen confusion or gray areas on how to handle patients.
---
Related: How to improve the dental patient experience: 6 tips
---
Have clear processes on how to greet customers, discuss their insurance coverage, check them into their appointment and check out.
If a patient is ever angry or frustrated, your team should be able to communicate clearly and effectively in order to resolve any issues. The goal here is to be proactive instead of reactive. This mantra is a great tool to maximize efficiency, instead of harping on what went wrong.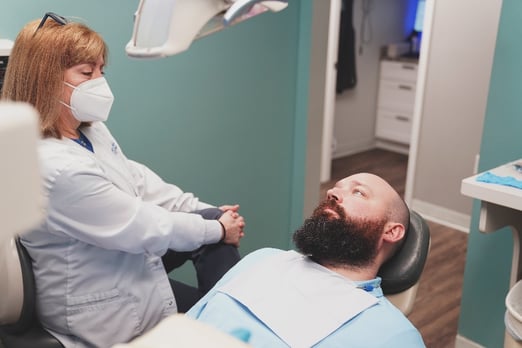 Miscommunications with patients regarding billing, especially, can decrease efficiency. Avoid this through proper training of your team.
Tip #9: Regularly review your practice's performance and financial health
In your practice management software, you can access several financial reports that will paint a picture of how your practice is performing:
Production report

Write-offs report

Collections report (insurance and patient)

A/R report (insurance and patient)

Daily Deposit report
By reviewing and understanding these reports, you'll see where your strengths are, and where you can improve.
For example, if your insurance collections percentage is less than 90% (heck, if it's less than 99%), why is that? Why is your team having trouble collecting from insurance companies? These reports are an easy way to nail down the problem.
Once you understand where the deficiencies are in your practice, you can take steps to find solutions that will lead to a more efficient and profitable practice.
Tip #10: Consider benefits of using expert services to optimize income and keep you focused on in-office patients and tasks
Consider economies of scale when looking to make your practice more efficient. A dental billing service like DCS has streamlined each step for insurance billing, patient billing, and insurance verification.
Clients typically lower costs by about 62% because the service performs more work in less time. That's how your team can pay more attention to your patients, and see more revenue come in.
Let your service partner guide you to make best use of their skills. Ask questions to improve your team's ability to create clean, complete insurance claims.
Be willing to align with your service partner's guidance. Then, you'll see more problem claims turn into payments, more reductions in A/R, and more accurate posting. You'll also get the best chance of success in battles with insurance companies with an experienced billing partner.
Empower your team members to spend their valuable time creating relationships, filling the schedule, and creating accurate insurance claims.
---
Related: Top 10 benefits to outsourcing dental RCM services
---
With your team focused on patient care, and experts handling your billing, you will collect more and worry less about the profitability of your practice.
Make your dental office more efficient through expert dental billing services
These 10 tips highlight how to make a dental office more efficient. Streamlining your billing processes, focusing on patient care, and knowing the best practices will steer you toward financial and professional success.
Having experts on your side will elevate your dental office's efficiency, as well. You'll get a worry-free billing process, resulting in cash flow you can count on.
At DCS, we have a team of experts on call to help with any dental billing questions. We support your profitability with quick answers.
To learn more about working with DCS's billing services, schedule a call with one of our experts.
Related Posts
Dental billing resources